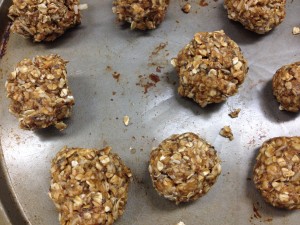 Energy bites are a very easy and quick snack that are not only delicious but full of nutrition. They are one of those great recipes that you can basically put anything in them that you like, and they are great to make with kids.
They are easy because you simply put all your ingredients into a bowl and mix together. You then roll them into balls and freeze them for 10 minutes. Done!
The kids in my Mini Chefs really enjoyed making these. There were lots of things to measure and put in, and no one turned up their nose at any of the ingredients. They loved it because they all got a chance to mix and roll their own ball, which was a bit of a sticky process. It didn't matter to them, as they were really excited to try them out. Even my pickiest eater was licking her fingers after rolling her energy bite – already expressing how much she loved it. I was super pleased! (I had been working hard to find something that this child would enjoy that was really good for her) In fact, when we sat down to eat them she had 3. Yes! Success.
Now the original recipe calls for peanut butter, but being in a peanut-free facility we used WOW butter, made from non-GMO soy and allergen free (dairy, gluten, egg) it is a great alternative if needed. It does contain sugar, so not so great if you are avoiding added sugars as well. I can vouch that it tastes just like peanut butter and the kids in the class had no idea whatsoever. It looked and tasted the same to them.
Energy bites are a perfect easy on the go snack, as you can make up a batch ahead of time and just grab them when you need that extra boost. There are also many variations on these balls, you can even create your own adding in or removing whatever you like. Things such as raisins, dried fruit, nuts, cacao powder are just a few of the things you could add in. Once you have the basic recipe that sticks together the options are endless.
Energy Bites
1 c. dry oatmeal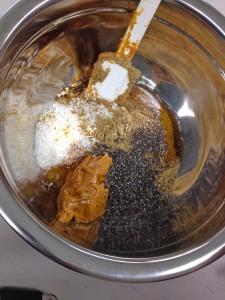 2/3 c. shredded coconut
½ c. peanut butter (WOW butter is a great non-nut option)
½ c. ground flax seed
½ c. cacao nibs
1/3 c. honey
1 tbsp. chia seeds
1 tsp. vanilla
Stir all ingredients together in a medium bowl. Once thoroughly mixed take approx. 1 teaspoon and roll into a ball – dough will be sticky. Place ball onto a cookie sheet. Continue rolling until all dough has been used. Place balls into freezer for 10 minutes or until firm. Take out and enjoy!
Once frozen balls can be stored in an airtight container and are great quick grab and go snacks.
Makes 20-25 balls
Next week our last class and it's a good one! We make chocolate and peanut butter ice cream…