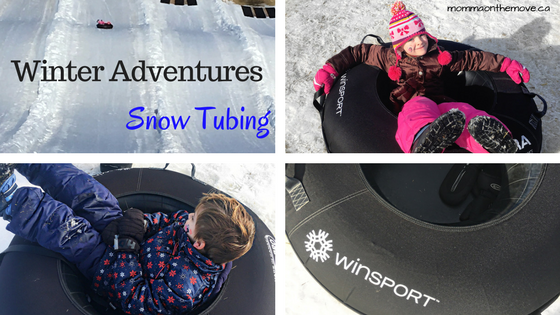 Snow Tubing is a fabulous outdoor winter activity that has taken many ski resorts by storm! This exhilarating concept of cruising down the snow covered hill on an inner tube is not only fun but a great family activity.
A secondary activity to the toboggan, snow tubing originated sometime back in the 1800's. The concept of cruising down the hill in a tube slowly gained popularity over the years and really took off in the 1990's when many ski hills decided to offer an alternate outdoor activity for the increased non skiers that were coming to the hill.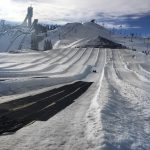 And let me tell you snow tubing is an absolute rush! We had the pleasure of trying snow tubing for the first time at Winsport's Acura Tube Park here in Calgary. Boasting 9 lanes and Western Canada's largest tube park, it is quite different than hopping on the toboggan and zooming down the hill. First off, it is safer as the tube park is set up with lanes, so when you go down the hill you have your own wide space to zip through. Plus it is staff supervised and they moderate when people go, making sure the lane is clear before the next person zooms down.
Second, you can save those legs going up and down the hill with your tube each time because you ride the magic carpet to the top. This allows you to stop and enjoy the ride up as well.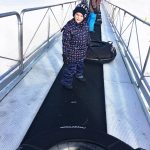 Third, the lanes are groomed and maintained. So though you may experience some dips and curves they are none of the bumps or bare spots that you might run into on the traditional toboggan hill. Easier on the tailbone and the rest of the body!
The kids were super excited to give it a try. Children have to be at least 42″ to ride by themselves but children 36″ or more can go if they ride with an adult. Chloe was a little trepidatious but totally wanted to go by herself regardless. Luke, as he does, just watched everyone else go first, getting the lay of the land, seeing what to expect, and was quite confident to go on his own once it was his turn.
When it's your turn the staff actually give you a push and launch you down the lane. Either giving you a spin or sending you straight – which they ask you what you'd prefer before they do. Being a little cautious myself I asked for straight the first time I went, but honestly you want to spin! (Just remember to wait a minute or so when you get to the bottom cause you might be a little dizzy). It is so much more fun. Spinning and zooming safely down the hill really is exhilarating. I screamed every time and loved it!
You can also go down in groups of up to 4, where each person is in their own tube but you are all holding onto another tube in your group. This can also be lots of fun and another way to share the experience.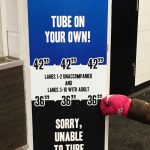 Passes for the park are quite reasonable, starting at 18.99 for youth and can be purchased in 2, 3 or 4 hour rides. You also have the ability to reload your cards at a reduced rate for future rides. And they currently have an unlimited Family Pass on sale for the rest of the season – we'll definitely be getting one of those!
The only downside is even though the park has 9 lanes it can get quite busy at the top and hard to determine which line for which lane you are in. Since they are newly opened, they are still working out some of the kinks in the running of the park so that it is smooth and efficient. But they are doing a great job! the staff are so fun and friendly and most people are pretty understanding about being patient and waiting their turn.
Snow tubing is a fabulous alternative to tobogganing and I feel a bit safer as it's more controlled (you also don't need to bring any equipment). And with the new bylaws here in Calgary only allowing toboganning on 22 designated hills it provides another great option for kids and families. I also love that it's local! There are other snow tube parks in the mountains outside of Calgary like Norquay, Nakiska and Lake Louise but if you don't want the addition of the longer drive then this is perfect! So zip down to WinSport and check it out before the season ends.
Want to experience Snow Tubing at the Acura Snow Tube Park for yourself? Check out their unlimited Family Pass currently on sale.