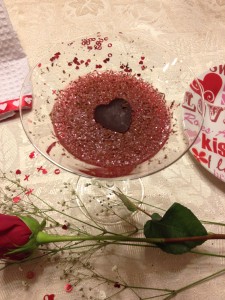 As some of you know, I am really into martinis these days. It started last fall when my love of pumpkin helped me to discover a recipe for a pumpkin martini. I wasn't a huge fan of martinis at the time as I had found that most of them were kind of sour, or way too strong for my liking. But I had tried a few, my youngest sister being a fan of them, her favorite being the Cosmo.
The pumpkin martini was absolutely divine! It became my new favorite and as a result I decided to venture out and try some other martini combinations. I've enjoyed Lavender one, Gingerbread, and a Poison Apple to name a few.
And now every time we approach a holiday, I am on the hunt for a new one to try that fits with theme of that holiday. Valentine's Day was no exception, so earlier this week I set out searching the internet for a fabulous 'Valentine's' recipe to try. There were so many to choose from, many with a common theme of red and some kind of fruit, either raspberries or strawberries. Many I have earmarked and saved to my Pinterest board for taste testing at a later date.
The Raspberry Chocolate Kiss Martini was the one that caught my eye and won the privilege of being 'tested' for this Valentine's. Originally created by chef Michael Schulson, I had a few adjustments to make but knew it could be done. First off I had to figure out how to make my own simple syrup, which is basically sugar and water. I had thought before that I could probably do this with agave nectar instead of sugar and create the same thing, but had yet to try it. Well now was the time and I am happy to say it worked very well.
One thing I puzzled over though in the original recipe was the chocolate part (or lack of in my opinion). The only thing that presented any chocolate at all was the cookie rim that went on the glass, not really what I would consider enough chocolate to merit chocolate in the title! So I experimented. I tried making the martini and sprinkling cacao nibs on top. Honestly that did not do much. Then I tried chocolate shavings sprinkled on top, that was better.
I experimented a little more, rimming the martini glass in chocolate icing, ahhhh…now we're talking. I also tried dipping the rim in melted chocolate and then letting it cool and solidify before adding the martini mix. All, I found were very good solutions to the chocolate I felt was truly missing in this drink. Which is the best? That's hard to say. I think you should perhaps try them out and then let me know which one you think is the best 🙂
This martini in general is fabulous, a very delicious fruity sweet drink. I do advise you to be careful though as the sweet easily masks the vodka in it and it goes down very smoothly!
So serve your sweet something a little different this Valentine's, or baby just make one for yourself and enjoy!
Raspberry Chocolate Martini
*1/4 c. mint infused syrup
10 raspberries
2 oz. vodka
2 tbsp. cranberry juice
ice cubes
Chocolate options:
rim glass with chocolate icing or
dip rim of martini glass in melted chocolate, let cool or
sprinkle chocolate shavings on top of drink
Place raspberries in a martini shaker and shake till crushed. Add mint infused syrup, shake again. Now add vodka, cranberry juice and ice. Shake well until chilled. Pour into martini glass, sprinkle with chocolate shavings. Enjoy! If rimming glass with icing or melted chocolate do this step before pouring martini into glass
*Mint Infused Syrup
1/4 c. agave nectar
1 c. water
1 bunch mint
Place all ingredients in a small saucepan on stove over medium heat. Stir and heat until agave nectar has dissolved. Take off heat and let cool. Strain through a sieve, syrup is ready to use. May be kept in fridge in an air tight container up to 2 weeks.
And if you don't have the ingredients to make the mint infused syrup, try adding 1 drop peppermint essential oil with 10-20 drops liquid stevia to sweeten.