One of the many benefits of outdoor nature activities is that they engage all five senses in children's learning. Outdoor sensory activities like touching sticks, smelling the flowers, hearing the birds, seeing the grasshoppers, even tasting the dandelions!
Children (and adults) learn best and retain the most when they engage their senses. And an outdoor environment is one of the best places to do this! There is a plethora of sights, sounds and tactile experiences in nature, and a lot of times we are experiencing this without even thinking about it. Children just naturally gather sticks, rocks and flowers. They can't help but be drawn to pick them up. How many times have you told your child to put that stick down or drop those rocks?
In this activity we are actually going to encourage children to pick up natural items and then take their exploration a bit further by creating a city with them.
Building a Nature City – An Outdoor Sensory Activity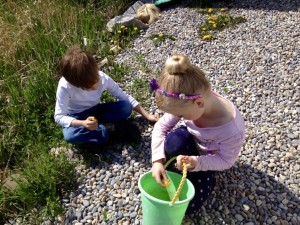 You will need:
buckets
playdough (homemade or from the store)
flat bottom boxes
natural items (to be collected)
The first thing I did to get ready for this activity was make natural herbal playdough the day before. I found this recipe on The Imagination Tree and loved not only the idea of adding the herbs, which provide such a wonderful smell, but the use of real lemon juice in place of cream of tartar. Though I did this myself without the kids, you could easily make this into another activity with the kids (another great outdoor sensory activity) prior to building your nature city. Of course you can use regular playdough as well if you do not wish to make your own.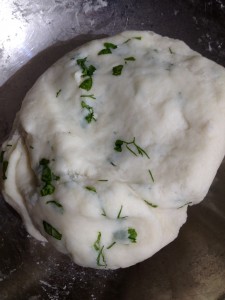 Briefly explain what you are going to do – gather items, use the playdough, build city with items in your box. Then begin…
Give the child a bucket to hold their nature items in, then go out together and gather items. Encourage them to gather a variety of things and only pick up items that are already on the ground. We want to instill in them that pulling live leaves off or breaking branches can hurt the tree, or picking the flowers (with the exception of dandelions) can prevent them from growing again.
Once they have gathered their items return to a spot outdoors where they can have a 'work space.' This should be a flat space, like the deck or concrete patio. You could even set up a large piece of cardboard or wood to create an area for them to work.
Give the child a flat box bottom to build their city in. I searched around our house and found that gift boxes work well. You want one where the sides are not too high and the bottom is fairly sturdy. Ideally if you have one of those cardboard trays from your local garden center these work best.
Let them take the amount of playdough they want to create the base of their city in their box. They use the playdough to stick their nature items in to build their city. (I left the bag of playdough there for the kids to take as they needed).
Taking the natural items they collected have them build and create whatever city they have imagined and see the results.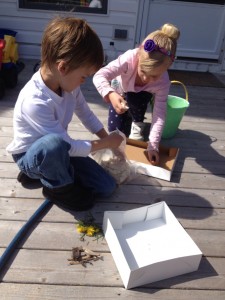 When I did this with my children they were super excited and engaged in 'building' for quite some time. Both were very focused on their cities and they modified and added to them as they went. Luke started out with something very simple but then saw Chloe make a tee pee and decided he needed one of his own. They were at it for a good 20 minutes or more and this was in addition to the time we had already spent collecting our natural items.
Both of their cities turned out very well and were quite creative and unique! They really enjoyed it, especially Luke who actually thanked me the next day for doing that with them because "I really enjoyed it," he said. I thought that was pretty cool.
Sensory play and exploration is an important part of a child's development as children learn through their environments. Sensory play stimulates the brain and helps them develop and refine the use of their senses, which is super important for all types of learning! This outdoor sensory activity allows kids to engage all of their senses by touching the natural items (are they rough, smooth, sticky), smelling them as they are working, seeing the different colors and breathing in that good old fresh air while they are creating! They'll likely discover bugs while they're out there or notice/ hear a bird fly by. They may even taste the playdough, (which was all natural with herbs) like my daughter did. We always were a family who likes the full experience.
Regardless of what your child's experience with this activity they will definitely get something out of it. Whether it be the texture of the sticks, enjoying the sounds, they will be engaged, creative and using their imagination while reaping the benefits of a full sensory learning experience!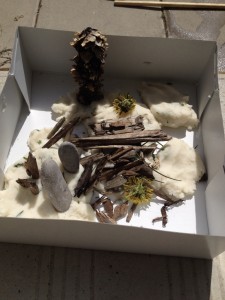 And don't forget to take pictures of their creations once they are done, as they will truly be works of art.
Next week we discover all the colors of nature through this easy do anywhere activity.