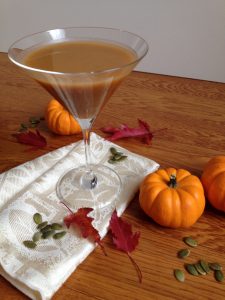 Last year when I was experimenting with different pumpkin recipes, I discovered, quite by accident a recipe for a pumpkin martini. Now I have never been a big martini fan but love pumpkin so thought that I would give this baby a try!
Of course the original recipe calls for sugar and cream, both of which I had to adjust, but was able to do so easily and without compromise on taste. In fact, my friend who was not a big martini fan either, and really just enjoyed a good beer or maybe a glass of wine, loves these things! And told me just the other day (while we were sipping our pumpkin martinis pre Thanksgiving dinner) that he had no idea there was milk of any kind even in them!
The first time I made them I followed the recipe, making all the necessary adjustments, doing the sugar rim, etc. But I found that the sugar rim was not to my liking and that I could easily do without it, which made things very easy in the sugar department, as the martini itself was sweetened with maple syrup. Being a natural sweetener I did not have to change it.
For the milk I substituted coconut milk, though I have recently used almond milk in a pinch, and it works just fine. I do prefer and recommend the coconut milk though as it provides a creamier and a little sweeter taste. I use the coconut milk beverage (unsweetened) by SoDelicious, as it is a little bit lighter than the coconut milk you get in the can, though I am sure that would work as well.
Now having enjoyed these martinis so much, I have ventured into the martini world and am trying/ discovering all kinds of great mixtures. Last Fall while in Banff I tried a new martini the bartender had just created with lavender, so good, and one recently at Halo restaurant in Calgary, called the Purple Dragon.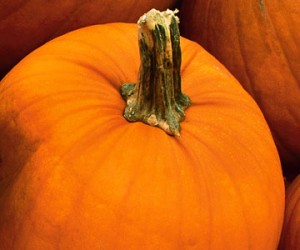 I do love the pumpkin ones though, well because there is pumpkin in it, and I can easily make them at home instead of paying $10 a glass while out. I have only one problem though, they are so good, it is hard to have just one!
So if you've got some extra pumpkin leftover from that pie you made on the weekend, or just want to treat yourself and try something new, give this fabulous recipe a try!
Pumpkin Martini
1/8 tsp. pumpkin pie spice or 1 drop doTERRA OnGuard essential oil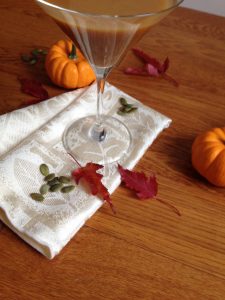 3 tbsp. vodka
2 tbsp. coconut milk
1 tbsp. pumpkin puree
1 tbsp. pure maple syrup
1/4 tsp. pure vanilla extract
In a martini shaker filled with ice, combine the vodka, coconut milk, pumpkin puree, maple syrup, vanilla extract, and the pumpkin pie spice. Shake vigorously, then strain into the prepared glass.
Serves 1
Like I said I enjoy it without the sugar rim, but if you choose to do so combine 1 tbsp. coconut sugar with 1/8 tsp. pumpkin pie spice on a plate. Dip the rim of martini glass in water then dip in the sugar mixture to coat.
What are some of your favorite martinis?