This weekend I attended the kickoff of the Lions Festival of Lights, a free drive by light display housed at Confederation Golf Course, and has been on in Calgary for 29 years.
Located along 14 St. NW, just south of 24 Ave., this light display has over 115,000 lights and is Calgary's largest drive by display. Set up by over 3000 volunteer hours, this year the display is completely green with all LED lights.
Each year they kick off the event with family activities, concert and treats and this year was no exception. They were ice sculptures, Singing Santa and Mrs. Clause (who really got the crowd rocking) as well as free hot chocolate and cookies. I was having a great time enjoying the tunes and bee bopping with the crowd (Santa really was good and quite creative in his singing).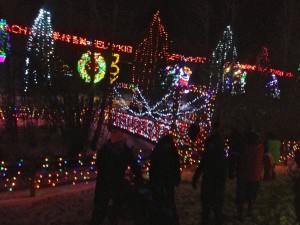 At 6 pm, the mayor of Calgary, Naheed Nenshi, threw the switch to officially open and light up the park for the 2015 season. And to top it off a beautiful display of fireworks lit up the sky for everyone to enjoy. People were then invited to stay and enjoy the lights and the park.
In my 17 years in Calgary, this was the first time I had ever gone to see this lights display. I had heard of it but never attended. And this was the first time that I was aware that they did any kind of official kickoff – and honestly I was impressed. Not only with the event itself but the reasons why the display existed.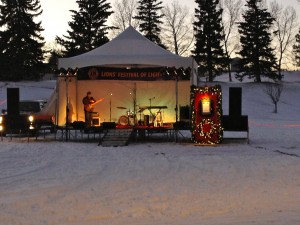 The Lions Club does this display every year as a way of thanking Calgarians for all their support and generosity throughout the year. The Confederation Golf Course supports the display as part of their mandate is to provide other activities than golf for Calgarians, which is why they not only open up their grounds for the Christmas display but also for cross country skiing and sledding in the winter months. I think this is a fantastic way for everyone to give back to the community and benefit!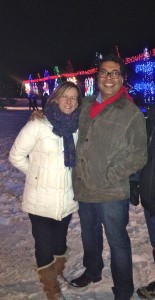 Even though this is largely a drive by display, it is just as enjoyable to park and take a walk through the park enjoying the lights in a more intimate way. The display really is quite phenomenal and the best part about it is it's free! I find there are so many additional costs at this time of year that is it pleasant to be able to enjoy something at no cost.
So pack up the family, friends, significant others, even grab some hot chocolate and take a tour down to Confederation Golf Course and check out the Lions Festival of Lights! They are open nightly from 6 pm to midnight until January 8.