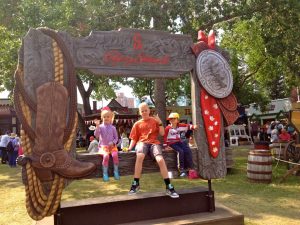 I love the Calgary Stampede! It is one of my most favorite times of year. The whole city comes alive with buzz and excitement, and the energy in the city is fantastic. When I had kids I knew that the Calgary Stampede would become one of our summer traditions. People looked at me like I was nuts wanting to take my kids to the grounds because it is busy, crazy and loud. But I have found over the years that going to the Calgary Stampede with Kids is not a difficult or horrible endeavor. In fact, with a little planning and awareness, you can have a fantastic day on the grounds with both you and the kids wanting to come back for more.
Tips for going to the Calgary Stampede with Kids
Pre-Plan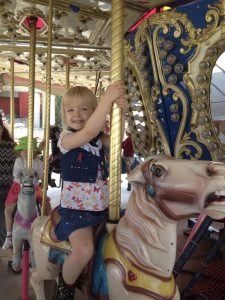 Take a look at the schedule and decide what events you would like to see and what days and times they are. Then plan the rest of your visit around them.
Go during the week
I always recommend you go with your kids on a weekday (omitting Kids Day and Family Day). The crowds are smaller and things are less busy. This will cut down on your waiting times and keep kids happier as they are engaged quicker.
Go early, leave early
Go early in the day, when the grounds open (typically 11 am – there are a couple of exceptions). You not only beat the crowds but head out with kids that are fed (give them a good breakfast), fresh and ready to go. Then when you're ready to call it a day, for us it's usually around 4 or 5, the evening crowds just starting to come in and you are on your way out.
Take your own food
Pack a lunch, healthy snacks and waterbottles for everyone. I find when my kids are fed and hydrated they are happier and last longer. I'm not saying don't enjoy some of the fares on the grounds, but they can be quite expensive and add up fast. Also they are not always the healthiest choices and kids need good stuff to keep them going. When you have your own food, it allows you to feed the kids when they are hungry, without having to go find somewhere to eat, stand in line, etc. Also having water and staying hydrated is key. The grounds can get quite hot, so water is important.
Take advantage of the Free Kids Activities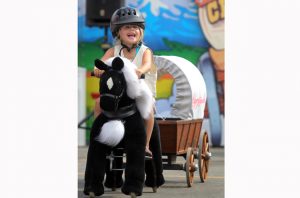 There are lots of free kids events like the Kids Tractor Pull, Chuck Challenge and Penning. There's also Buckaroos with kids performances with their favorite characters, as well as a character performance on the Coca Cola Stage. There's the Dog Bowl and the Corral show. Of course there's the Kids Midway and new this year is the Indian Village Interpretative Program, where you can see daily dances, traditional Pow Wow and drumming. All free with gate admission.
Pre-purchase Ride Cards or other coupons
Before the Stampede starts you can buy Ride n' Play cards at Sobeys and Safeway. You cash them in on the grounds for either a ride all day wristband or 60 coupons and save about $20. They are only on sale though up until Stampede starts. Once it has started you cannot purchase them. You can also get deals or coupons on gate admissions. Kids to the age of 6 are free, but you can get free admission for 7-12 year olds when you buy a case of Coca Cola.
Don't forget sunscreen and hats
It can get quite hot down there on a sunny day and the sun beating down on the pavement. Put sunscreen on before you go and take it with you to reapply throughout the day.
Dress for the weather
Weather during the Calgary Stampede can be unpredictable. Take a raincoat. Even though the prediction may be bright and sunny, thunderstorms are not uncommon this time of year. Also dress appropriately for the day. Bring layers or change of clothes for the kids.
Plan it into your Budget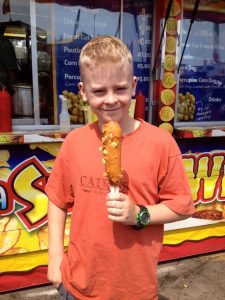 There are no if's, and's or but's about it, the Calgary Stampede is expensive. I always plan it into my budget each year as well as take advantage of the deals and coupons that provide savings, making my dollar go a little farther. Another good idea is to decide what amount you are willing to spend on the grounds. Be realistic but cap it and stick to it so you won't regret it later.
Know your limit
Don't do too much and don't overstay, know when your kids have had enough and it's time to go home. Better to go home on a high where you all want to go back, talking about what you'd like to see and do next year, then one where you're so relieved to be home and will never go again.
Last but not least, have fun and take lots of pictures. Relax and enjoy. Don't stress about the lines or the crowds (I always go over with my kids the expectations when we're on the grounds, stick together, hold hands, etc. I also register them at the Lost Child booth as soon as we get into the park). Go with the flow and be able to let things go. It's ok if you don't get to it all.
Going to the Calgary Stampede with kids can be easy and fun. With a little pre-planning and a backpack of items with you, you'll create an enjoyable and memorable experience for all. I have used these tips with my kids over the years and as a result they love it and ask to go back every year.