One of the things I love about Thanksgiving weekend (and Fall in general) is that it is usually a beautiful sunny weekend, with crisp mornings, blue skies and warm afternoons, surrounded by the gorgeous colors of leaves turning. This is the time of year when I really enjoy getting out hiking, or for short walks in nature. With or without kids, I love to explore the forests, park, mountains or whatever location it is that we decided to go and check out during this beautiful season.
This weekend we went out to Bragg Creek, which is only a 30 minute drive from our house, to the provincial park. It is a beautiful spot with picnic tables and fire pits, just up from the river with lots of lovely walking trails, of various lengths.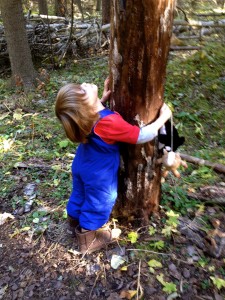 The kids were excited to pack up and go for a picnic and have a fire. In fact, I have not seen Luke and Chloe get ready so fast and out to the car, chomping at the bit to go! I was still packing things up and they were already in the car!
Once we got out there and claimed our spot we went for a short walk before enjoying our picnic (which would be roasted hot dogs and banana boats). A few weeks earlier I had been out there and came across the alder trail, which is a 1.6 km loop. At the time I wasn't sure how long the trail actually was so decided not to complete the loop that particular day due to time constraints. I was looking forward to discovering this trail and what it was all about.
It turned out to be a beautiful trail, through moss covered floors and old growth forest. The trees were tall and covered in old man's beard, which I pointed out to Luke and Chloe. They looked on in amazement and giggled as I asked them if they would like a beard of lichen.
The trail is fairly flat and great for kids, with interpretive signs along the way describing the life of the forest. With information on everything from the animals that live there to why we experience chinooks and the effect they have on our environment. Both Luke and Chloe asked me to read every sign and listened attentively as I read. Matthew even stopped at each sign and read what it had to say before moseying on.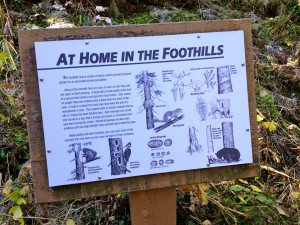 Luke was often stopping at trees and knocking on them or giving them hugs, Chloe and Matthew (my more adventurous ones) attempting to climb the trees. Our pace was not rushed but not too slow and everyone enjoyed exploring the trail. All in all our hike took us about an hour (which I thought was pretty good with two 4 year olds) and we returned to the picnic area ready to roast hot dogs and enjoy the fire.
We rounded out the afternoon with some soccer and frisbee, yes it felt like the perfect family scene, tacky but nice; and a short trip down to the river. Exploring along the river bed and tossing rocks into the stream.
Exhausted, satisfied and happy we hopped back into the car for the short drive home. I feel blessed living so close to such a beautiful area that we can enjoy and explore. To me getting out in nature with kids is so important, and not just going out for a picnic but going for a walk or hike of some kind. I had to pry my oldest away from his iPad, but will do so again (and again) as we all need to get outside more and enjoy our natural environment. Cause each time you go out there, it's different. You find something new to share, learn about and appreciate that you may not have before.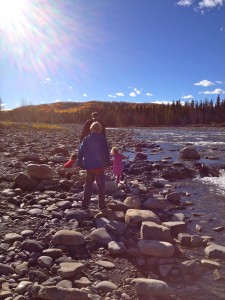 Want to get out hiking more with the kids? Start them at a young age with ease with these tips for creating successful hikes with kids.