When I was in Junior High, a group of my girlfriends and I were into having dinner parties. We took turns hosting, dressed up and made a fancy meal complete with dessert for everyone. It was fun, each host making different meals, decorating the table, and trying new things.
On the evening that I hosted I, wanting to ensure everyone could enjoy what I was making, checked with the girls in regards to any allergies and/ or dislikes. Interestingly, they all came back with a resounding, "We don't like mushrooms". I clarified whether this was a dislike or an allergy and when they confirmed it was simply a dislike, I secretly smiled.
I had found this fabulous recipe for mushroom turnovers which I was dying to try and since they weren't allergic to it… I made them and served them as the appetizer, saying nothing about what was in them. They LOVED them! No one noticing at all that it was mushrooms that they were eating. They thought it was ground beef.
After we were done the appetizer I then revealed to them that they had actually eaten mushrooms and no ground beef was present whatsoever. They were surprised (and thankfully not mad), and we went on to enjoy the rest of our meal and evening (which I have no idea what the rest of the meal was).
Needless to say, this recipe became a family classic in my  house. My Mum and sisters using it over the years for many events and parties. My Mum often has 4 dozen or more in the freezer at Christmas, ready to pull out and heat up whenever we want snacks or guests pop by. I have adopted the same philosophy and you'll easily find turnovers (and other goodies) in my freezer this time of year.
The original recipe does contain dairy, calling for cream cheese and sour cream, but I have been able to adapt the recipe. Using vegan cream cheese and vegan sour cream they are still just as fabulous! (which having had the original I can fairly compare)
Mushroom Turnovers
Pastry:
9 oz. vegan cream cheese
1/2 c. Earth Balance vegan spread
1 1/2c. flour
In a medium bowl, cream vegan cream cheese and Earth Balance. Add the flour and work with fingers or a pastry blender until smooth. Chill well for at least 30 minutes.
Filling:
3 tbsp. Earth Balance vegan spread
1 large onion, finely chopped
*1/2 lb. mushrooms, finely chopped
1/4 tsp. thyme
1/2 tsp. sea salt
pinch black pepper
2 tbsp. flour
1/4 c. vegan sour cream
In a skillet, melt the Earth Balance. Add onion and brown lightly. Then add mushrooms and cook, stirring often about 3 minutes.
Add the thyme, salt and pepper and sprinkle with flour. Stir in sour cream and cook until gently thickened.
Preheat the oven to 450F. Roll the pastry dough to 1/8″ thickness on a lightly floured surface. Using a biscuit cutter, cut into 3″ round circles.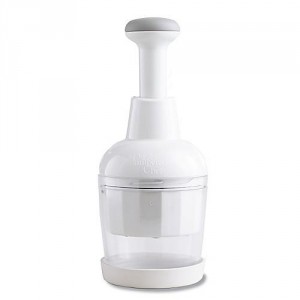 Place a teaspoon of mushroom filling on each circle and fold over so that the edges touch. Press the edges together using fingers and prick the tops to allow for steam to escape.
Place on an ungreased cookie sheet and bake until lightly browned, about 15 minutes.
*To finely chop mushrooms I use a food chopper from The Pampered Chef. This makes it quick and easy to get them to the right size.
Makes about 3 dozen