There's nothing like a good cup of coffee. That fragrant aroma wafting through the air, the warmth of your mug as you gently lift it up and breathe, pause, then take a sip. Ahhh…I love coffee. And lately I have been drinking a lot of it. Well a lot for me, comparatively to other people I really don't drink much at all. I drink maybe a cup a day, and there are some days none at all, but for a girl who used to drink one cup of decaf maybe once a week, a full caffeinated brew every day is a lot!
It's all those fantastic flavored coffees that have done me in, toasted coconut, cinnamon pastry. But they don't come in decaf and it is the caffeine that sends me flying, high on energy and sometimes a little shaky, probably not so good for me. Yet when the german chocolate cake is calling…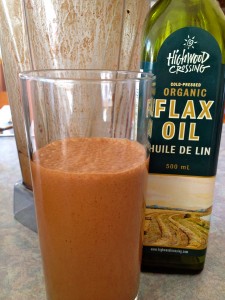 Luckily there's a smoothie for that 🙂 Yes a way to still get my coffee fix, cause really I think what I am looking for is the flavor, and make it a more healthy choice and experience. It consists of all kinds of good things, like flax seed, cacao, honey and almond milk, with that little splash of coffee to finish it off.
It is quite yummy and satisfying. In fact, I made it for a friend of mine a couple of years ago, an avid coffee drinker and an avid smoothie avoider, and he loved it! He now enjoys them regularly. I also shared it with my mother this past weekend who is very much a smoothie drinker and loves her coffee, so it wasn't really a hard sell, but she loved it and immediately asked for the recipe.
The recipe is quite simple, combining all the ingredients in the blender, mix and ready to serve. It can easily be made ahead and drunk later in the day, or right away, as I am sure you will not be able to wait.
Chocolate Mocha Smoothie
3/4 c. unsweetend almond milk
2 tbsp. cacao powder
1-2 oz. coffee (you can use decaf if you prefer, or any flavored coffee that you feel goes well with chocolate)
1 tbsp. flax seed oil
1 tbsp. vegan protein powder
1 tsp. honey
optional: 2 ice cubes (this thickens up your smoothie if prefered)
Put all ingredients into a Vitamix blender. Mix until smooth. Enjoy!