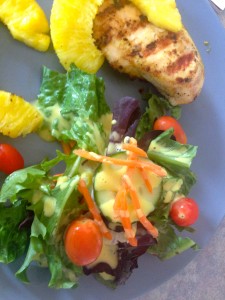 I love barbequing! I love how it's little dishes, less mess and usually very delicious! In fact, I enjoy barbequing so much that we usually bbq year round! Regardless if it is -30 or plus 30 C. (Thankfully it is not usually -30 C around here in the winter, but it is often below zero).
I know! You are probably thinking that this woman is crazy; but I've been out there in my winter boots flipping burgers or tending the steaks. Breath coming out in white whisps as it floats into the air. I never worry about the weather forecast or if it is 'barbeque' weather, as it is always barbeque weather for me!
It wasn't until recently though that I actually learned to barbeque. Yes we were barbequing year round but it was my husband who was doing it. In fact I had never even made something as simple as the burgers! I would always mix the ground turkey or chicken and make the patties but never actually cooked them myself. I have no idea why I did this. Perhaps I thought it was the 'mans job', or perhaps it was just my way of diveying up the jobs, regardless up to a couple of years ago actually doing the cooking on the barbeque was a whole new thing to me.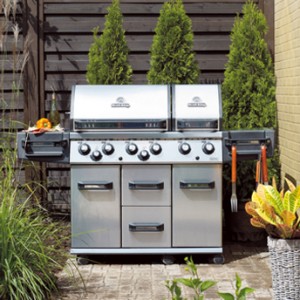 They say bbqing is an art and I would agree. Certain meats need lower temperatures and longer times, while others do better on a medium to high heat. I learned a little from my Dad and remembered what he said to do as I watched him barbeque over the years. And I did a little figuring it out myself. Overall I am a very good barbequer and I sometimes even take over that task when I am at my parents house!
The one thing about barbequing though, especially if you do it as often as I do, is variety. I believe there is more to barbequing than just burgers and steaks, so I like to explore other recipes are and what other things you can do. I have found that the barbeque has way more options for cooking on it then I originally thought, expanding my repertoire of dishes quite a bit. (Did you know you can do pizza on the barbeque? I did try it once, not so successfully mind you, but it can be done!)
A lot of barbeques these days come standard with rotisseries as well, which opens up a whole other path of options for you, such as roast chicken, roast or lamb. My mouth just waters at the thought of it….
One of my favorite recipes that I have discovered for the barbeque is Coconut Curry Chicken with grilled pineapple. Originally from Clean Eating Magazine, it is really easy, very moist and tastes delicious. It only takes a few minutes per side to cook and voila! dinner is ready. Just add rice and a nice salad (or other vegetable) and you have a complete delicious meal. The only trick is it does require a little bit of pre-planning as you need to marinate the chicken for a couple of hours before cooking it on the barbeque.
The kids love it and my oldest usually gobbles up two chicken breasts on his own (yes he may be a growing boy but he can also be a bit of a picky eater, he will not eat things he doesn't like no matter how hungry he is). I find the pineapple slice on the top really makes it, the flavors going very well together.
So whether you feel like barbequing tonight or saving this recipe for warmer weather, you'll want to give this tasty coconut curry chicken a try. Completely dairy free, sugar free and gluten free, it is a dish that will be enjoyed by all.
Coconut Curry Chicken with Pineapple
4 boneless chicken breasts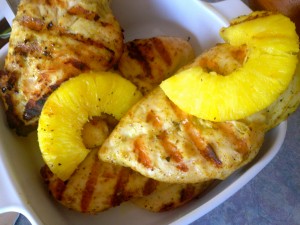 **1 1/2c. coconut curry marinade
1/2 c. unsweetened coconut
4 fresh pineapple rings
Place chicken in a large ziploc bag. Add coconut curry marinade and seal, squeezing out as much air as possible. Refrigerate for 2-6 hours.
In a non stick skillet, heat coconut on medium heat until lightly browned. Transfer to a plate to cool.
Turn BBQ on and heat to medium high. Lightly oil grate with olive oil (I find best is to brush on with heat resistant pastry brush). Remove chicken from marinade and pat dry with paper towel. Place chicken on grill and reduce heat to medium low (I find with chicken a little lower heat and a little longer time, keeps it moist and prevents it from drying out). Grill chicken until cooked through, about 3-5 minutes per side.
If you have room on your grill with the chicken place pineapple rings on and cook until lightly charred, about 2 minutes per side. If you don't then you can do the pineapple at the end quickly once chicken is cooked.
To serve, sprinkle toasted coconut on chicken and one ring of pineapple on top of each  chicken breast.
Serves 4*
*I have found the marinade can easily accommodate 5 or 6 breasts and creates less waste
**Coconut Curry Marinade
2 c. coconut milk
2 tbsp. curry powder
2 tsp. sea salt
1 tsp. black pepper
In a medium bowl, whisk all ingredients together. Can be made ahead of time and stored in an airtight container in the fridge for a few days. Can be used on chicken, pork, seafood and vegetables.