Chocolate dipped strawberries are one of those simple decadent treats that are easy to make and delicious. Often paired with champagne and Valentine's Day they always give me the feeling of richness and luxury.
Imagine… the red juicy strawberry dipped into firm dark chocolate. As you bite into it, the taste sensation bursts in your mouth with the sweetness of the fruit and the richness of dark chocolate. There is just something about that combination.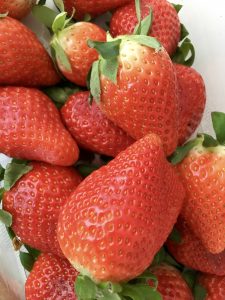 Even though chocolate dipped strawberries have this air of luxury and decadence they are actually very easy to make and you can usually make a batch in about 15 minutes. They are also very healthy for you! As strawberries are high in Vitamin C, potassium, folate, fiber and antioxidants, while dark chocolate is high in maganese, iron and copper. And if you make your own chocolate as well, like I do, you can control the amount and type of sugar that goes into it as well! (I always use natural sweeteners, with honey being my top choice).
I often wonder if they're so good for us why I don't make them more often? Perhaps it is because they have this air of luxury (in my mind) and I really consider them a treat. (And why don't we treat ourselves more often? – that is a whole other conversation)
So let's get to it!
How to Make Chocolate Dipped Strawberries at Home (with homemade dark chocolate)
Line a cookie sheet with parchment paper

and set aside.

Rinse and pat dry the strawberries

. Two tips here – one is to make sure you have fresh firm strawberries, second is to make sure that your strawberries are very very dry after you have rinsed them. If there is any water or moisture on them then the chocolate won't stick.
Prepare your homemade dark chocolate. I use this very simple method to make my chocolate. No stove involved just a kettle, boiling water and two bowls. It is important to be very careful when making the chocolate that you do not get any water in it as it will change the mixture and your chocolate wont't turn out. As I said I love using honey as my sweetener but in this case I would use pure maple syrup or liquid stevia, as sometimes the honey does not mix as well and will separate when it sets.

Dip your strawberry into chocolate

. Grab strawberry by the green leafy top and dip into the chocolate. Turn and twist your strawberry to get the coverage you want on all sides. Gently place your dipped strawberry on your parchment paper lined cookie sheet and dip the next strawberry.

Once you have dipped all your strawberries place the cookie sheet into the fridge

. This helps your chocolate set faster.

If desired, you can dip your strawberries in the chocolate a second time

for a thicker covering, better coverage or just more chocolate! You do need to wait until the first layer is set and firm before dipping the second time.

Set back into the fridge until chocolate is set

.

Serve and enjoy!
**if you want to get really fancy you can make a batch of white chocolate and drizzle it over the dark chocolate. You would have to let it set again and wait a little longer but it looks great aesthetically, which is great to impress guests if you're having a party or event.