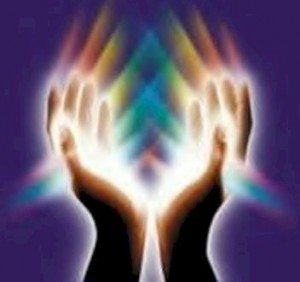 On my continuous journey for growth and learning I recently took a Reiki Level I class. Having heard of this modality before I was not really sure what it was exactly, though I was familiar with the term and had had received some Reiki treatments before myself.
I decided to take the level I as I felt that this was the next step for me in my spiritual work, having already taken classes with Sonia Choquette, and becoming a Certified Angel Therapist® with Doreen Virtue. I also felt that for myself this was the next thing that I needed to do, as I understood that in taking the class I would continue and experience my own healing – even if I wasn't conscious of what healing I needed.
I also took it as an opportunity to expand my spiritual circle of friends and colleagues, joining other like minded spirits in our journey. I also considered it some time for me and an opportunity to work on myself.
According to the International Training Center for Reiki, Reiki is "a Japanese technique for stress reduction and relaxation that also promotes healing. It is administered by "laying on hands" and is based on the idea that an unseen "life force energy" flows through us and is what causes us to be alive. If one's "life force energy" is low, then we are more likely to get sick or feel stress, and if it is high, we are more capable of being happy and healthy."
Reiki treats the whole body including the physical, mental, emotional and spiritual bodies. It is a simple, natural and safe method of spiritual healing and self-improvement that everyone can use.
Not really sure what to expect in the class, though confident that it would be a positive experience, I learned that Reiki is a very simple technique that once you are attuned to it, passed on by a Reiki Master, it is very easy to do. It is calming, relaxing and peaceful. Reiki can never cause harm because you are channeling source energy and it will always go to and treat the area that needs it most. This does not mean that the client will experience complete relief after one treatment, depending on the ailment, but will definitely  experience positive results.
One "side effect" of taking the course is that you go through a 21 day cleanse of the 7 chakras, one chakra a day, 3 times. Depending where you are in your life and what you have to move out, this may not be a very fun experience. In fact, though glad I have taken the course and plan to take level 2, and I know I will be better in a better place once the 21 days are completed; there are days in this cycle that I am definitely not enjoying and finding it challenging to 'cleanse' and still manage my everyday life. It would be nice to take a 21 day vacation after completing the course!
Reiki benefits everybody, whether you are the recipient or the practitioner, and has been shown to improve people's lives and/ or medical conditions when used in conjunction with traditional medical practices. There is no downside to having Reiki. My suggestion is to go experience a Reiki session and see what the benefits are for you, as it is different for every individual. At the very least you will have a very relaxing and pleasant experience and I think we could all use a little more of that in our lives!
Have you ever had a Reiki session before?