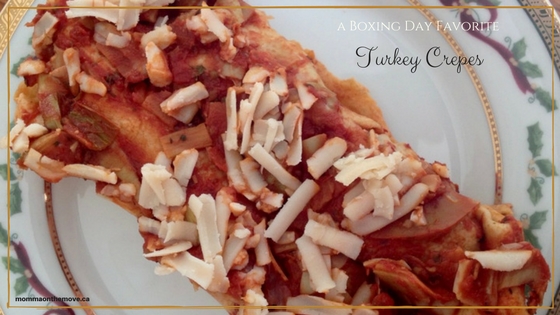 One of the things I absolutely love about the big holidays, like Christmas and Thanksgiving, is the big delicious feasts we have. All the decadent recipes we enjoy, from classic to traditional, to the new one you always wanted to try. So yummy! My mouth is watering just sitting here thinking about it (or maybe that's the quiche I currently have in the oven?)
And of course there's all the leftovers, usually enough at our house that we are eating turkey for a week before we tire of it and freeze the rest. Sometimes we'll just enjoy the turkey on its own with the gravy, potatoes and leftover veg, or we'll make something new out of the turkey, creating a whole new fantastic dish to enjoy!
From hot turkey sandwiches to omelettes and casseroles, there are endless delicious turkey leftover recipes to create. My absolute favorite though is hands down, turkey crepes. My mother found this recipe years ago, when I was probably 11 or 12. She made them one Boxing Day. I remember asking Mum what was for supper and looking at her like she was crazy when she responded. I thought 'oh yeah those will be delicious…gross.'
Boy was I surprised. The rule in our house was that you always tried something once and if you didn't like it fair enough, but you couldn't say you didn't like it if you had never tried it before. Plus that was what was for supper, if I didn't eat it, there was nothing else. So I tentatively took a bite. OMG! These things were fantastic, they tasted just like pizza, but were lighter and fluffier. My sisters and I gobbled them up and eagerly asked for more. They quickly became the family favorite and the traditional dish on Boxing Day.
Now I make them for Christmas Day, as we have simplified the meal (and by simplify I mean reduce the amount of prep) on Christmas Day to allow more family time, and less time in the kitchen cooking. I have also adjusted the recipe to meet our dairy free requirements and they are just as delicious! In fact we have had a few guests over on Christmas Day and they are none the wiser (and also gobbling them up, in fact D'Wayne's nephew requested the leftovers this year). D'Wayne too is also salivating as I am wrapping them up and putting them into the oven.
It is a fairly simple recipe, with some of the cooking being done easily in advance. I usually make the crepes a few days ahead (or if I am really organized earlier and freeze them), and the filling and final touches the day of the meal. Everybody loves them.
So if you are in need of a new yummy recipe for all the leftover turkey you have (or just want to try something new) definitely give this recipe a try!
Turkey Crepes
16-20 8″ crepes (recipe below)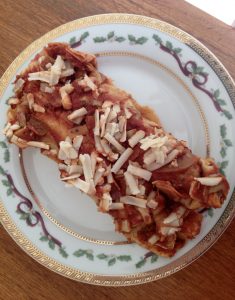 3c. cubed turkey
1/4 c. Earth Balance vegan spread
2 onions finely chopped
1 c. sliced mushrooms
1 clove garlic, minced
2 – 5 oz jars artichoke hearts, drained and chopped
3 c. shredded Daiya mozzarella
1 – 28 oz. can tomato sauce
1 tsp. basil
1 tsp. oregano
salt and pepper
Crepes:
4 eggs
3/4 c. water
1/2 c. almond milk
1 c. flour
1 tsp. salt
1/4 c. Earth Balance vegan spread
Crepes:
Beat eggs and stir in flour. Add water, almond milk and salt, mixing until smooth. Refrigerate for 1 hour to let flour absorb liquid (can be left in fridge overnight if desired). Just before making crepes, melt Earth Balance in pan; stir excess butter into crepe batter. Batter should be consistency of light cream. If batter seems a bit thick blend in more water to get it to the right consistency.
Pour 1/4 c. of batter into pan and swirl to form a circle. Cook crepe until lightly browned, turn and cook other side for 1 minute. Repeat with remaining crepes. Stack cooked crepes between layers of wax paper until ready to use. Crepes can be prepared up to 2 days ahead of time and kept wrapped in the fridge. Crepes may also be frozen for longer storage.
Makes 16- 20 crepes
Filling:
In a large skillet, melt Earth Balance over medium heat. Add onions and garlic and cook until tender.  Add mushrooms and continue cooking until softened, about 2-3 minutes. Stir in turkey and half the artichokes. Heat through, then remove from heat and stir in 1 cup of cheese. Season to taste with salt and pepper.
Place crepes on work surface with light colored sides up. Divide turkey mixture equally among crepes and roll up. Place crepes seam side down in a single layer in a greased 9×13 ovenproof dish.
In a medium size bowl, combine tomato sauce and remaining artichokes. Stir in basil and oregano and spoon over prepared crepes. Sprinkle with remaining cheese.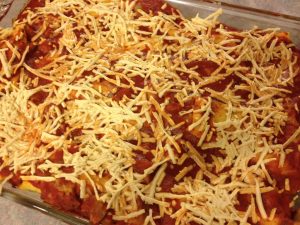 Bake at 350 F for 30-35 minutes until hot and bubbly.
Serves 8