I love birthdays. They are fabulous days to celebrate people, how much we love and appreciate them and how happy we are to have them in our lives. Celebrating kids birthdays are some of the best, as they can be super fun and creative.
There are so many themes, games, crafts and activities to do around a kids birthday and I personally love a good theme. I get really into it, creating details from the cake right down to the decorations.
The one thing that is part and parcel of a birthday is of course, the cake. It is a tradition that has been around for centuries and one I honestly feel is just wrong if absent on a birthday (I hear in Sweden they start birthdays with cake for breakfast – they know what they're doing). I have always loved the idea of a cut up cake, or a theme cake, something more than your traditional round or square. The designs, the colors, the creativity. My Mom made them for us growing up and well, even though my Mom warned me not to, I continued that tradition with my children.
So for the twins, who just recently turned 6, we had a Minecraft and an Elsa cake this year; which I thought would be fairly simple. And well, once I figured out what I was doing, and all the pieces I needed, they were.
Because we chose a number of years ago to go sugar free this has created some challenges in creating things like a sugar free birthday cake. The cake itself was easy enough to do but it was the decorating, the icing and other accessories that made it interesting. This year for Luke's Minecraft cake we discovered a design that was pretty simple in itself but required Jello and Rice Krispie squares – which I had yet to figure out how to make sugar free jello or sugar free rice krispie squares. I had some ideas on how to do this but had not made them before.
The Rice Krispie squares were easy enough. A couple of years ago I discovered a recipe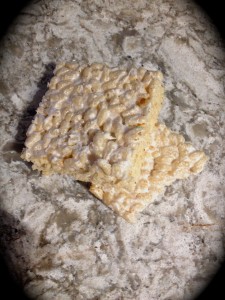 on Wellness Mama to make marshmallows, so I simply made that recipe and then mixed in the gluten free rice krispies right away while the marshmallow cream was still soft (at one point I thought I would have to make the marshmallows let them set then melt them down…luckily my rational brain kicked in and realized that they would already be soft before they set and I could just mix it all together right away). Once it was mixed in I just pressed the rice krispies into a pan like I usually would. They turned out quite well, though not as sweet as an original Rice Krispie square, which I think was largely due to the gluten free cereal which is not as sweet to start with; otherwise they were great.
The Jello was a little more of a challenge and this was simply because of the color I needed. Jello in itself is easy you use plain gelatin add water and let it set. But when you're using natural fruit juice as a base and trying to make blue… Did you know there is no natural fruit that creates the color blue? You might think what about blueberries? Nope purple. Red cabbage is as a natural food dye, also purple. I even Googled it to see if I could find anything. No luck.
Eventually I found somewhere, the idea of using white grape juice and then adding a drop or two of blue food coloring. Though I would have prefered not to use the artificial food coloring I thought how much work did I want to do for this Jello. I decided a drop or two would be ok. So I found a natural Jello recipe on Wellness Mama (the same site for the marshmallows) and had it made setting in the fridge in about 5 minutes. Easy.
It tasted great too. In fact I prefered the Jello to the Rice Krispie squares. With this Jello though you have to like white grape juice, which some people don't. I find it is a distinct taste that you either like or don't. With my kids, Chloe loved it and Luke did not. The great thing is that unless you are making an odd color of Jello, like blue, you can find fruit juice out there that will give you the color you need without adding any food coloring. Like I wish I had needed red, easy! raspberry, cherry, cranberry
In general, I was really pleased with how these turned out and how the cake turned out in the end. It looked great and tasted good, with the finishing touches being the Minecraft figures on top, which thankfully Luke got from Gran for his birthday and was quite happy to put on top (I was going to sit down and draw and design these things). Luke was really pleased with the result and everyone ooed and awed over the cake when they saw it. That's the kind of reaction that I like, and what makes it worth it. Now Chloe's Elsa cake this year… that is another story…
Sugar Free Jello
1 1/2 cups of white grape juice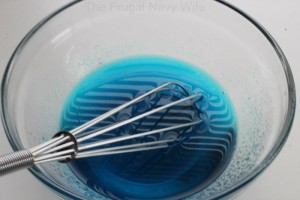 1/4 c. cool water
1/4 c. hot water
1 tbsp. grain fed gelatin powder
1-2 drops of blue food coloring (number of drops depends on how deep a blue you want)
Pour the cool water in a large mixing cup or quart sized mason jar and add the gelatin powder. Stir until mixed- it will start to thicken a lot. Add the ¼ cup of really hot water and stir to mix- it should be thinner now. Combine this with the juice and mix well. Pour the jello mixture into an 8×8 dish. Put in the fridge, covered, for at least 2-3 hours or overnight and serve. Cut into cubes or scoop out with a melon spoon to make cute shapes.
Serves 4-6