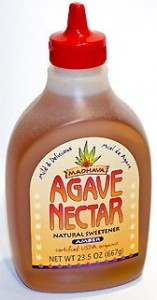 One of the things I discovered early on in our sugar free journey was how to make a cake, specifically a birthday cake, using agave nectar as the substitute for sugar. Though there are many other options for natural sweeteners this was the first one that I tried. I have found though that depending on the recipe and what you are making depends on what the best substitution is.
I had great success with this vanilla cake recipe and have used it many times. The kids love it and no one knows the difference when they eat it unless I tell them it's sugar free. You can easily use this recipe for white cupcakes as well.
I used it this year for Chloe's kitty cat birthday cake (for the twins birthdays I make a cake for each of them and I usually do one chocolate and one vanilla). With chocolate icing it was delicious as usual.
White (Vanilla) Cake Recipe
3/4 c. agave nectar
1/2 c. Earth Balance
2 eggs
2 tsp. vanilla
1 1/2 c. flour
1 3/4 tsp. baking powder
Preheat oven to 350 F. Grease and flour 9×9 inch pan.
In a medium bowl, cream agave nectar and Earth Balance. Beat in eggs, one at a time, then stir in vanilla.
Combine flour and baking powder, add to the creamed mixture and mix well. Finally stir in the milk until batter is smooth. Pour or spoon batter into the prepared pan or into muffin tin for cupcakes.
Bake for 30 to 40 minutes in the preheated oven. For cupcakes, bake 20 to 25 minutes. Cake is done when it springs back to the touch.
Yield: 12 cupcakes or 9×9 inch pan