I love bacon. And so do my kids. They want everything with bacon. If I am making eggs they are asking if they are having it with bacon. Pancakes, waffles, etc. are we having bacon too? I am not sure if they inherently inherited this love of bacon from my younger sister who basically has bacon with everything!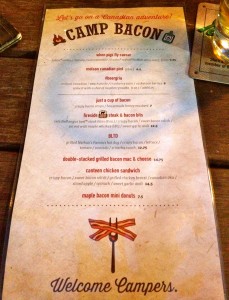 In fact every time I see something with bacon I think of my sister and how much she loves it. I have noticed entire menus centered around bacon and would take pictures and send it to my sister, never really thinking much of it myself. I thought some of these combinations may be odd, but having never tried them I didn't discount that it had possibilities.
A couple of weeks ago as I was listening to the radio in the car, I heard the morning show crew on KISS FM talking about things with bacon and how the one DJ put bacon on absolutely everything, including her brussel sprouts! I am not a fan of brussel sprouts, but I was intrigued when she mentioned bacon with her macaroni and cheese. Hmmm, I thought, that might actually be good.
Then later that week, while at Beerfest, I noticed that one of the food items being offered was macaroni and cheese with bacon. I was tempted to try some…
Instead I decided to come home and make my own macaroni and cheese with bacon, that way I could make a dairy free version and enjoy it much more (cause honestly once you go dairy free when you have even a trace of it it's just not worth the symptoms afterwards and just feeling gross). So we finished up at Beerfest, no rush of course :), and then came home for dinner.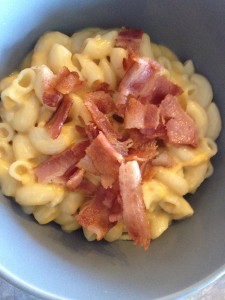 I made my mac and cheese like I usually do, using the Daiya cheddar cheese, almond milk and Earth Balance. I maybe added a little extra cheese and I felt this dish would be much better being a little cheesier. Then I cooked up the bacon, I usually use Mitchell's, which is a brand that does not add sugar to their bacon when curing it. Most brands do unfortunately, but there are a few you can find, like Mitchell's that do not have the added sugar. My mouth was watering as I was preparing everything, so excited to try this out.
Once everything was ready I crumbled up the bacon, served my mac and cheese and put the bacon on top. Then scooped up some and tasted it. Omg! was it ever good. The flavours worked so well together, the salty bacon giving it just the right taste sensation in my mouth. It was really hard not to overindulge on this dish.
The next week I made it for the kids, who of course gobbled it up! Now I understand how people can combine anything with bacon. There is just something about it that creates a flavour that your tastebuds will enjoy and be asking for more! I love too that I was able to make this in a way that meets my dietary choices of no dairy and no sugar, and still appreciate the combination.
Now I don't know if I am going to be putting bacon with brussel sprouts anytime soon, maybe it will improve the taste? But I am definitely going to be more open about trying bacon with more things!
Do you have any dishes that you love adding bacon?