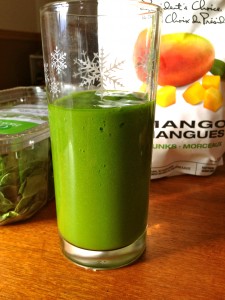 Greens, greens, greens, one of the first things I hear when talking about diet is that we should eat more greens. There certainly is a variety to choose from like spinach, lettuce, kale, chard, dandelion, etc. all fall into this category. They are rich in fiber, vitamins (like vitamin C, K, E), minerals and have many disease fighting benefits.
But honestly, greens are not always that appetizing. Seriously, I can only eat so many salads, so many different ways and then my body is craving something else. A totally different texture and sweetness even. I don't care how good for you they are, I get to a point when I cannot possible eat another leafy thing. (You're with me aren't you?) Salads can get boring even after you have come up with all different kinds of ways to spice them up! Whether it be nuts, dried fruit, salad dressing etc. You need a change!
So how do you get those oh so beneficial greens in on a daily basis? In fact vegetables in general sometimes I can find a challenge. They recommend 5 servings of veg a day and often I get to supper and may not have had even one.
What I have discovered is the magic of smoothies! They are a great way to get all kinds of things into your body in a quick, easy and yummy way. There are all kinds of great recipes and combinations out there that are absolutely delicious. And sometimes you may not even notice the 'good stuff' (like spinach) that's in there because you can't really taste it.
Every morning I make a delicious tasting green smoothie that includes a bunch of greens and some fruit to sweeten it up. That way first thing I am getting not only some vegetables, but some green vegetables right away! I make it religiously and even my kids love it and enjoy it as well, asking for some when I make it. (Score!) I miss it on the odd day that I do not make it, usually because I am out of some ingredient and haven't gone to the store yet.
Now there are lots of variations on a green smoothie out there an honestly some of them are not very good. They look a gross colored green when mixed, they don't taste that great, and though good for you I end up choking it down, trying not to bring it back up. Gross! Who wants to drink that! I don't care how good it is for me.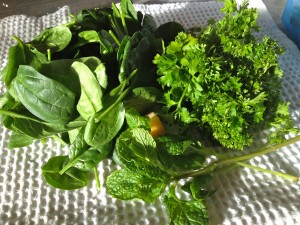 I had tried one before that was cucumber, spinach, celery, parsley, lemon, banana and water. It was ok and I drank it, got the health benefits, but honestly it was not that tasty. And seriously if I am going to eat healthy then I want it to taste good to. I am not a believer in healthy having it taste like cardboard, or having to choke it down. Food is supposed to taste good, we are supposed to enjoy our food. It is one of pleasures of being on this planet and being human, food! So I did this first version for a while and then gave up, it just didn't provide the taste I was looking for. So good for me or not, I ditched it. (Though for someone else this may be totally the kind of taste and smoothie you are looking for! To each his own right?)
It was when I was in Hawaii a couple of years ago that I discovered my recent combination for a green smoothie. Spinach, mint, papaya and more this smoothie not only looked a lovely vibrant green it tasted absolutely delicious! I was sold. I wrote down the ingredients and came home to create my own. I played a little bit with the amounts, got it how I wanted and now everyday I enjoy this yummy, sweet, nice looking green delicious smoothie. I even have both my mother and sister (and sometimes even my Dad and that's saying something because my Dad is not really a smoothie guy) enjoying this smoothie everyday. Once I shared it with them and they tasted it, they were hooked as well.
Now of course, I am going to share it with you, and I hope you love it! If you're not a sweet kind of person it may not work for you but give it a go and see. Kids for sure will love it and it is such a fabulous easy way to get in those vegetables and fruits that we may not be getting in daily. Smoothies in general  have endless possibilities…. but that is another post.
Green Smoothie
1 c. spinach
3-4 stems of parsley
1 sprig of mint
*1/2 c. papaya
1/2 c. pineapple
1/2 c. mango
1/2 -3/4 c. apple juice
Put all ingredients in Vitamix blender. Start on low moving up to high. Blend on high for 1 minute or until smooth. Enjoy!
*I usually use orange or yellow papaya as I like it better and find it sweeter; but you can also use red papaya
**vary the amounts of fruit to make it sweeter or less sweet to taste
Makes one glass of yummy green smoothie