The slow cooker is a fantastic tool for those busy days, when you can pop dinner in and literally forget about it until supper time. Providing you with a little more freedom and relief. I really appreciate it as I don't have to think about when or how I am going to make supper as well as having that extra hour that I wouldn't normally have before supper. Not to mention the lovely smells that are wafting through the house as it cooks throughout the day!
As a result I am constantly on the lookout for new and tasty slow cooker recipes to try. Years ago, back when I first starting blogging, I found this recipe for Taco Soup on the Canadian Parents website (they had quite the selection of slow cooker recipes and I got quite a few from there). I was sad when their site changed and I could no longer access these recipes and not having written them down I was hooped. I did the best I could and guessed at it but it wasn't quite the same.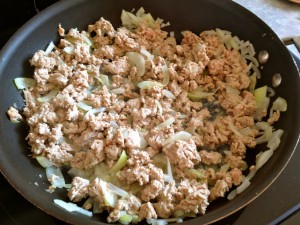 Happily, I discovered a way to recover old webpages and was able to recover the recipe! I was so excited as it is such a yummy one and the kids really enjoy it. Of course the original recipe called for ground beef, so I substituted ground turkey instead. With a few other modifications you have the recipe I use below.
Of course the part the kids like the best is being able to have 'chips' for supper, though they do eat and enjoy the soup as well. It's like having a treat for dinner. The spices I often find are hit or miss as some days it turns out spicer than others, some with no spice at all. Either way it is one of the favorite dishes at our house and especially enjoyable on a cool Autumn Day.
Slow Cooker Taco Soup
1 lb. ground turkey
1 pkg. taco seasoning (or 1 tbsp. *homemade mix)
28 oz. can diced tomatoes
19 oz. can red kidney beans
1 medium onion, chopped
1 yellow pepper, chopped (may also choose green, red, or orange if prefered)
2 c. water
10 oz. can tomato soup
2 tsp. chicken bouillon powder
Season to taste with garlic powder, parsley, oregano, salt and pepper
In a medium frying pan, brown ground turkey and chopped onion. Once browned drain well and add taco seasoning, stir. Combine remaining ingredients in slow cooker and cook on low for 4-5 hours.
Serve with taco chips and/ or shredded cheese.
One of the other things I have discovered is how to make my own spice mixes at home, instead of buying them from the store. A lot of them have added preservatives and sugar that I want to avoid, so I found this easy 'just like in the package' taco seasoning recipe that I use now. I also have one for chicken bouillon powder which I use in all my soups, stews, etc.
*Homemade Taco Seasoning
1 tbsp. chili powder
1/4 tsp. garlic powder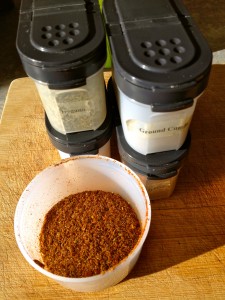 1/4 tsp. onion powder
1/4 tsp. crushed red pepper flakes
1/4 tsp. oregano
1/2 tsp. paprika
1 1/2 tsp. ground cumin
1 tsp. sea salt
1 tsp. black pepper
Mix all ingredients together. Store in an airtight container.
What are your favorite slow cooker recipes?