I love appetizers! They are small bite size morsels full of flavour and delight! You can sample many different ones without feeling full, guilty or like you're overindulging. And there are so many good, delectable recipes out there, I'm never at a loss for variety or a recipe to choose.
Of course I have my favorites, like Mushroom Turnovers and good old fashioned meatballs in a sweet and sour sauce, but like with everything else in food I like to branch out and try new things. A couple of years ago I found this recipe in a magazine at the gym. It looked good so I copied the recipe and tried it. It was an instant hit with everyone! Matthew, my spouse and dinner guests. So much so that my dinner guests asked for the recipe.
I loved it too and made it often over the next few months, sharing it with different guests or enjoying it ourselves. Then I went for a while without making it, until recently when I hosted a wine and cheese with friends and decided to pull it out and dust it off.
Tragedy struck though when I realized I could not find the recipe! A little while back I was organizing recipes and putting them onto my computer. When I did, I would throw away the paper copy. I thought I had done this with this recipe but I hadn't. What I had done was post it on my first blog which I could no longer access, and then thrown it away, thinking that I would be able to access it forever. I was wrong and completely saddened that I no longer had this recipe.
But you know what they say, nothing on the internet is ever lost if you know where or how to look. It took a bit of figuring and looking but I found it. I was overjoyed to have it once again. I quickly copied it onto my computer and now keep it safe and sound in my files.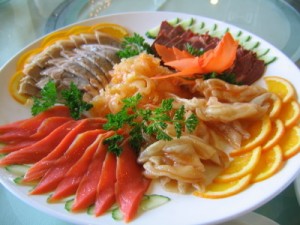 It also inspired me to have appetizers at my Christmas party this year. I will make some of my own and asked guests to please bring one to share. It's a great way to discover more great appetizers and share some of my favorites with friends.
So if you're an appetizer lover and looking for something new, I highly recommend the Sun Dried Tomato and Goat Cheese Bruschetta. Sugar and dairy free, you won't be disappointed.
And for all fellow appetizer lovers 5 Minutes for Mom is hosting a Twitter party tonight at 8 pm Eastern where everyone will share their favorite go to holiday recipes. Go here for details.
Sun Dried Tomato & Goat Cheese Bruschetta
1/3 c. sun-dried tomatoes, coarsley sliced
1/3 c. roasted peppers (bottled), patted dry and coarsely diced
1/3 c. artichokes (canned or bottled in water)
1 large garlic clove, finely minced
6 medium leaves fresh basil, thinly sliced
2 tsp. extra virgin olive oil
1/2 tsp. balsamic vinegar
Pinch ground pepper
12 thick, sturdy crackers or slices of whole wheat baguette
1/3 c. goat cheese
1/4 tsp. salt
In a medium bowl, gently fold together sun-dried tomatoes, roasted peppers, artichokes, garlic, basil, olive oil balsamic vinegar and ground pepper. Spread each cracker or baguette slice evenly with goat cheese. Top with vegetable mixture. Sprinkle bruschetta with grains of salt, if desired.
Makes 12 pieces