As a parent who endeavors to provide good healthy snacks for my kids, as I know many of us do, I was thinking the other day about what to provide for snacks other than fruit. Not that there is anything wrong with fruit, but I like variety, and so do my kids. As I think all human beings do, if we have oranges everyday for snack we may start out loving them but eventually be wishing for an apple, or some popcorn.
I read an article once that described things that appeal to kids most in their meals. They were foods that are sweet, salty, or crunchy and that if you appeal to one or more of these when planning meals and snacks you will always have success with them eating whatever you are serving.
So there are some days we make popcorn, others we have fruit, but the other day I realized that I have a great healthy chocolate pudding recipe, made from avocado and bananas. What a great snack option, sweet, chocolate and delicious! So I have added this to our snack list for afterschool. The kids love it, it is a great treat and it satisfies the sweet without the added sugar, cause there is no sugar (or dairy) in it!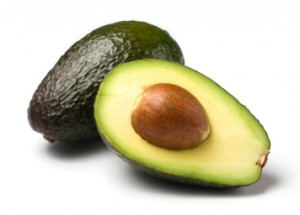 And the great thing is because it has avocado in it, it curbs our body's craving for any further sweets. My mother's naturopath said that when our bodies crave sweets to have an avocado – and the reason is our body actually wants fat not sugar, and avocados are high in (monounsaturated) fat, so when we eat one we satisfy and give what our body needs.
I also find this pudding to be quite filling, a small portion is enough to enjoy and fill your tummy (which is good because it means there are leftovers for later!) The pudding once made will keep in the fridge for 3-5 days – if it lasts that long.
It is very easy to make, put all the ingredients in the blender and within minutes you have smooth, fluffy and delicious chocolate pudding.
Raw Chocolate Pudding
2 ripe bananas, peeled and sliced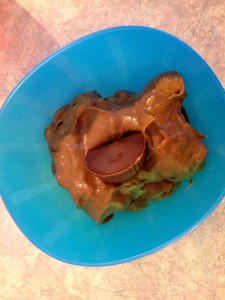 1 avocado, pitted and peeled
2 tbsp. raw cacao powder (please note this is different than cocao powder – they are not the same things)
1 tsp. agave nectar
Put all ingredients in Vitamix blender in the order listed. Start on low, slowly turn speed up to high. Blend for 30 seconds on high or until desired consistency is reached.
Makes 1 1/2 c. of pudding
Note: If you do not have a Vitamix blender, you can use your regular blender but you may find that it is too thick to mix well. What I have done is mix it in the mixer first so that everything gets fairly well mixed and then I transfer it to the blender – blending it on high- to make it smooth and fluffy.