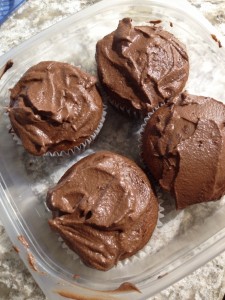 I have a secret to share with you. It's one of those don't tell my kids or I'll never live it down kind of secrets. I have a bit of an addiction. You know that chocolate icing that I made to ice the cupcakes? Yeah there was some leftover…there's not anymore…
When I found this recipe for dairy free sugar free chocolate icing I was in heaven. It's super simple to make and totally delicious! One would never know that it was anything near the sugar free area, let alone no dairy. It is creamy, smooth and definitely chocolatey! It is so good I sometimes eat it with a spoon. Hence, why there are no longer any leftovers in my fridge. Once in a while, when I have that craving for sweet I just dip in and take a spoonful or two…ok sometimes three. I often think to myself I will just freeze the rest and then when I need icing I can just pull it out and use it without having to make a whole new batch (the recipe is quite big – even when I half it I have generous leftovers). But unless I pop it into the freezer right away, yeah, I eat it, in big heaping spoonfuls and hope that my kids don't find out (because I don't want them to do it to! I know hypocritical).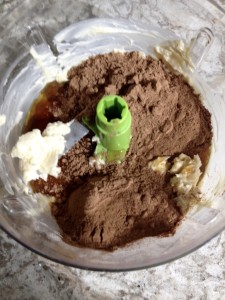 This simple recipe requires only 4 ingredients and your food processor or blender. I use cacao powder for that extra superfood boost – as cacao is high in magnesium, B vitamins, protein and fiber – but you may also cocao, though not as beneficial nutritionally. And I use this icing recipe for all kinds of things, not just cakes and cupcakes. We put it on ice cream, fruit and last summer we discovered that it is a great substitute for some of those good old camping recipes, like s'mores, or the new one we discovered at Scout camp – a combination of banana, nutella (we use the chocolate icing instead), butter and toasted on a bun – yum!
So regardless what you are going to use it for, whether it be a little indulgence eating it with a spoon, cake or a camping treat, enjoy this quick easy dairy free sugar free chocolate icing guilt free.
Dairy Free Sugar Free Chocolate Icing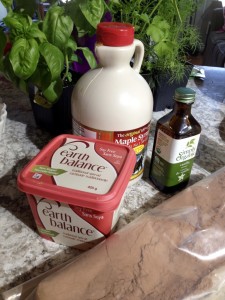 1 cup cacao powder
3/4 cup Earth Balance vegan spread
1 tsp vanilla
1 cup pure maple syrup (high in minerals such as maganese, zinc, potassium and no artificial ingredients compared to imitation syrups containing high fructose corn syrup, added and artificial ingredients, contain no minerals)
Process all ingredients in a food processor or blender until smooth and creamy.
Use immediately or may be stored in fridge for up to one week or frozen (unless you eat it all first).