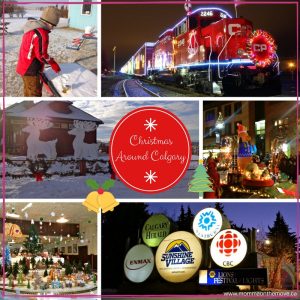 One of the many things that I love about Christmas are all the fun family activities that are on to attend during this season. From crafts to critters, there is something each weekend to choose from and you'll never run out of fun things to do!
Many of them are free, while some charge a small admission fee to get in. I love that many of them are also outside, which I think is a great way to get the kids outside and help the entire family enjoy winter! (cause let's be honest sometimes winter is not so enjoyable). These events provide different ways for you to enjoy the holiday season, celebrating and demonstrating that there is more to Christmas than just gift giving – which I feel is important to teach the kids too.
5 Fun Christmas Events in Calgary
Every year we attend at least one but usually hit 2 or 3. Our top five holiday events in Calgary are:
Held at the Calgary Zoo, view 1.5 million Christmas lights displayed in all shapes and forms, from animals to flowers. From late November to early January from 6 – 9 pm, children will be awed with the array of lights throughout the zoo. There are other activities for the kids as well such as snowman bowling, hay jumping (our favorite), as well as fire pits throughout to stop and warm up for a while. Hot chocolate is available for purchase, or bring a thermos of your own. There is an entrance fee for this event but it's well worth it.
This beautifully lighted Christmas Train rolls across Canada making stops along the way to the North Pole. It is a child's dream come true as you watch the train pull into the station. There are crafts for the kids as well as an outdoor concert. We went for the first time a few years ago (yes it was minus 30 and yes I think we are crazy) and my kids absolutely loved it! In fact it is the only thing that they are asking specifically to go to again this year (I guess the weather did not deter them). It is a free event and a very magical experience – check the website for your local schedule (attendees are encouraged to bring a non perishable food donation).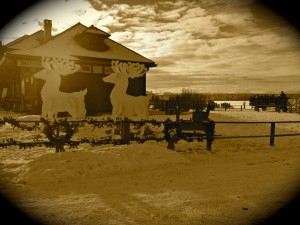 Enjoy an old fashioned Christmas at Heritage Park where you can enjoy a wagon ride, snow painting and a visit with Santa Claus. Shop the Heirloom Christmas Shoppe with unique finds at old fashioned prices! Children's mazes, crafts and even a kids only store (that's right no adults allowed) so your little ones can shop for you for Christmas. Our favorite here is the Christmas Train display, where you walk into a magical wonderland of model trains, zooming through Christmas villages and displays. Oh it is a sight to behold! My kids can spend hours in there watching the trains go round and round. Runs the 4 weekends before Christmas; there is paid admission to the park but you can find coupons at Safeway or First Calgary for discount on admission, which make it quite reasonable.
This event takes you out of Calgary into the outlying areas of Okotoks. Hosted by the Chinook Honey Company this free family event includes making your own beeswax candles, honey toffee, visits with the donkey, a scavenger hunt and mead tasting. My kids love making candles in the snow and of course tasting all the honey! There is also a viewing area inside where kids can see the inner workings of an actual hive and try to find the queen bee. Just a short drive out of Calgary, this is a wonderful event that runs on Saturdays in early December starting at 10 am in a beautiful rural setting.
Largest free drive by Christmas lights display, this 115,000 LED light display lights up Confederation Park. Set up completely by volunteers this light display will wow and awe everyone young and old. It can be seen along 14 St. NW, just south of 24 Ave.
These are just a few of our favorite Christmas event in Calgary (and around). There are many others that we have not been to before that I would like to check out, like Christmas in Kensington, Christmas Skate at the Olympic Oval (Calgary Olympic Park), Christmas in Canmore; all a variety of crafts, music and activities and each a little bit different (Canmore is showing outdoor movies – super fun!). And new this year The Polar Express Train Ride! Can we say I am super excited about this one?
There are also a number of community skates and events. Sadly, we do not have a Santa Claus Parade, which I really think should be reinstituted. Yes we used to have one, and I've been, way back before I had kids, my husband and I went. But apparently there has not been one in Calgary since 2007. Cochrane, Banff, Airdrie, and High River all have one, I think it's time for Calgary to have one.
But even without a Santa Claus parade, there are tons of activities to choose from. From outdoor events to theater – I love it! Because each weekend in December it is not what will we do this weekend? It is which event should we go to this weekend (thankfully some of these events are on during the week as well).
Don't get me wrong, we don't run ourselves ragged getting to all the Christmas events. I am not a big believer in getting it all in until we are exhausted and never want to see anything Christmas again. But it is nice to have the choice and variety to go out and enjoy our beautiful city, the season and our wonderful winter weather, creating more wonderful memories for years to come (even when it is -30C, cause yes we did that one year and that is the one that my children remember).
What are some favorite holiday/ Christmas events that you attend?