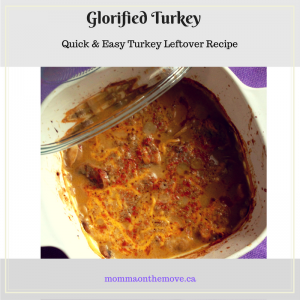 One of the many things I love about Thanksgiving is all the turkey leftovers! There are so many yummy recipes out there to use up my turkey. In fact, I usually buy a turkey that's a little bit larger than we need just to make sure we have some leftover.
First of all I love just having leftover turkey, gravy and mashed potatoes for meals during the week. I also love turkey sandwiches, especially hot turkey sandwiches (smothered in gravy – yum!) Then there's all the fabulous turkey recipes I have to use up the rest.
Our absolute favorite turkey leftover recipe is definitely Turkey Crepes, which we usually make a on Christmas Day in lieu of the big dinner. We decided to do this years ago when we experienced a super simple Christmas and re-examined what we really wanted at Christmas – what was the most important. Making a simple yet yummy meal frees me up in the kitchen and allows me to play and enjoy on Christmas Day. But I digress, we also love Glorified Turkey which is a quick easy turkey leftover recipe that's ready in 30 minutes. Just add rice or mashed potatoes and your favorite veg and you have a fast healthy meal.
Glorified Turkey
Glorified Turkey is a creamy hearty meal that uses mushroom soup, onion and cheese and creates a delectable meal. I have created a dairy free version, which is super yummy, but you can easily substitute dairy in if you wish.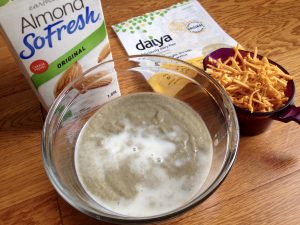 2 c. cubed turkey
1/4 c. flour
1/4 c. Earth Balance Vegan Spread
2/3 c. almond milk (or non dairy milk of choice)
1 – 10 oz. can *mushroom soup
3/4 tsp. salt
1/8 tsp. pepper
1/2 grated onion
1 can or sliced fresh mushrooms
sprinkle of paprika
Coat turkey pieces with flour. Put coated turkey into medium sized casserole dish with melted Earth Balance and heat in 325 F oven while preparing the rest.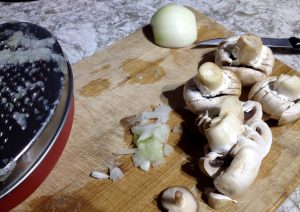 In a medium bowl mix together almond milk, soup, cheese, salt and pepper.
Grate onion and slice mushrooms. Add onion and mushrooms to heated turkey and stir well. Pour liquid mixture over turkey and sprinkle with paprika.
Bake at 325 F for 30 minutes. Serve with rice or mashed potatoes and your favorite vegetable for a perfect meal.
Serves 4
*I usually make my own mushroom soup, which is dairy free and fabulous btw – 3 kinds of mushrooms, creamy and thick. I also love that the recipe has lima beans in it. But you certainly don't have to. Canned soup works just as well depending on your own dietary needs.
The kids love this dish! In fact we had it the other night and Luke expressed how he "Loved this dish!" and asked for some more. He even hoped there was leftovers and was asking if he could have that for supper the next day.
You can also get a little creative with this dish by using a variety of cheeses – mix of dairy free mozza, cheddar and even gouda. If you enjoy mushrooms you can increase the amount to suit your desire. The thing I love about this recipe is that it is a totally different taste from the regular turkey dinner and leftovers and how quick it is to make!