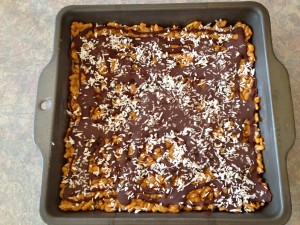 I love shopping at Community Natural Foods, a local organic and natural food store. Not only do they have a wide variety of products available and good prices, they often have someone there sampling yummy recipes. Not only do they provide the samples for you but they also have the recipe printed out and ready for you to take a copy!
Not only are the recipes delicious they are good for you, often a vegan recipe with natural sweeteners and usually a little pinch of some kind of superfood in there. This is where I have gotten the Cinnamon Salted Caramel Brownie recipe that I made and shared with all my friends in Kananaskis last January – which everyone loved and would never have known that it was no dairy, no sugar unless I had told them. So I was quite excited when I went in on Saturday and discovered 2 yummy recipes to try.
I was so excited I came right home and made them both, even having to run back out to the store to grab a missing ingredient. Fairly quick and easy they both turned out fabulously! I even shared a sample with a couple of my neighbors who quickly asked for the recipe.
I love it when I find good recipes like this as I think that a lot of people feel that eating healthy means more fruits and vegetables and that you have to give up a lot of the sweet treats, which just isn't true. You can find many, if not even more delicious in some cases, treats that not only satisfy your 'treat fix' but provide many essential vitamins and nutrients that our bodies need. It's great, have a sweet and it's actually healthy and beneficial for you!
No Bake Chocolate Macaroons
1 banana
1/4 c. coconut oil
1/4 c. pure maple syrup
1/2 tsp. vanilla extract
6 tbsp. cacao powder
1.5 c unsweetened coconut
1 tbsp. chia seeds
small pinch sea salt
In a medium size bowl mash banana well until there are no clumps. Stir in melted coconut oil, maple syrup and vanilla. Sift cacao powder and stir into banana mixture. Stir in chia seeds, coconut and salt.
Line baking sheet with parchment paper. Drop a teaspoon at a time onto parchment paper. Put in freezer for 20 minutes or until firm. Store in freezer until ready to enjoy.
Makes approx 15 macaroons.
Almond Butter Rice Crispy Treats
1/2 c. chunky almond butter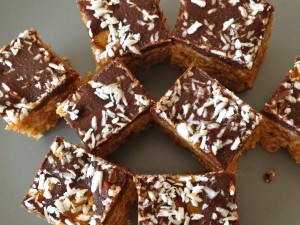 1/2 c. brown rice syrup
1 tbsp. vanilla
1 tbsp. Earth Balance
1/2 tsp. sea salt
3.5 c Erewhon Brown Rice Crisp cereal
Chocolate Drizzle
1/4 c. homemade raw organic chocolate, left in liquid form
1 tbsp. almond butter
pinch salt
Shredded coconut for garnish
Line an 8×8 inch square pan with parchment paper.
In a large pot put in brown rice syrup, Earth Balance, almond butter and salt. Melt over medium low heat until well combined and heated through. Remove from heat, stir in vanilla; then stir in brown rice cereal.
Scoop and spread evenly into 8×8 pan. Press down with finger or roll with a pastry roller (just a note about the pastry roller – I had never thought of using this before and seriously it is the cat's meow. Way easier then trying to press it into the pan with your fingers and makes it flatter and smoother). Place in freezer for 5 minutes while you make chocolate glaze.
Make raw organic chocolate according to recipe (cacao butter, vanilla, natural sweetener and cacao powder – for full recipe and directions go here). Stir in almond butter and salt.
Remove pan from freezer and drizzle with chocolate. Sprinkle with coconut and place in freezer until firm – about 15 minutes. Slice into squares.
Bars will hold their shape quite well at room temperature but may be stored in freezer or fridge.