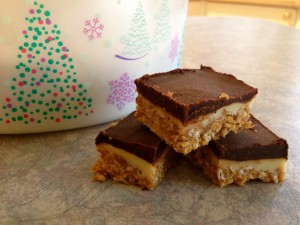 As promised I am sharing with you today the sugar and dairy free recipe for one of my all time favorite sweet treats. I have no idea where this recipe originally came from. It was one that my Mum made all the time when we were growing up and we all loved! It was very hard to have just one or two, as they were so good.
When we went sugar free at our house I thought that I would simply not make these anymore as they are so full of sugar and I had no idea what the possible substitutes could be. It seemed like a daunting task as many of the ingredients needed to be changed. But as I learned and adapted other recipes, discovering the various natural sugar substitutes out there I started to feel that I could easily adapt this recipe too. It might be a challenge and take a little time but I felt I could do it.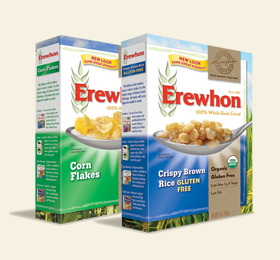 The first challenge was finding a brand of rice krispies and cornflakes that did not have any added sugar (because many cereals do). In my search I discovered Erewhon, a cereal company by Attune Foods that had both of the cereals I needed. Their brown rice krispies are sweetened with brown rice syrup, while their cornflakes have no added sugar at all.
Slowly slowly over the period of about a year I found what I was looking for and determined what alternatives could work in this recipe. And finally a few weeks ago I had everything I needed so I gave the new recipe a try. I am happy to report that they turned out great! and taste very similar to the original square. Taste tested by Matthew, he said that they did not taste different at all! And they must be good because he kept going to the fridge and scooping a few at a time.
Pleased with the results I shared the new recipe with my Mum and sisters – happy to have an alternative to our favorite treat. And today I am sharing the recipe with you. They are an easy no bake square and can be put together in less than 30 minutes. Make sure that you have your powdered sugar alternative ready and premixed as this can add to your time if you have to make this as well. The recipe for this is below.
My only tip is once they have set in the fridge, take them out and leave on the counter for a few minutes so they soften a little, this will make them easier to cut. I usually precut the whole pan and put them in a container in the freezer – the only downside is that they are too easy to grab and feast on! But great when you want to pull something out for company!
Chocolate Peanut Butter Cereal Squares
Bottom:
3/4 c. coconut nectar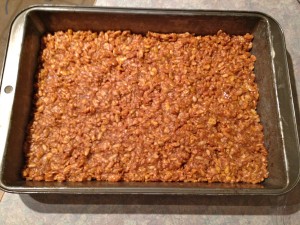 1/2 c. coconut sugar
1 c. unsweetened peanut butter
1 1/2 c. crushed Erewhon Corn Flakes
1 c. Erewhon Brown Rice Krispies
Heat the coconut nectar and coconut sugar until coconut sugar melts. Add peanut butter. Mix well. Then add corn flakes and rice krispies. Mix together well and press into greased 9×13″ pan.
Filling:
2 tbsp. fat free Jell-o vanilla instant pudding (this is not an ideal replacement due to the asparthame in it, but it is sugar free – I am on the lookout for a better substitute for this)
Rice or almond milk (approx. 2 tbsp.)
1/4 c. melted Earth Balance vegan spread
2 1/2 c. powered sugar replacement
Beat together well. Pour over bottom.
Top:
4 squares unsweetened chocolate, melted
1/2 c. Earth Balance vegan spread
Melt chocolate and Earth Balance in a small pot on the stove over medium heat. Stir frequently to ensure that chocolate does not burn. Lower heat if necessary. Mix together. Once completely melted spread on top and refrigerate.
Sugar Free Powdered Sugar (replacement for regular icing sugar)
1 cup nonfat powdered milk (for dairy free use powdered coconut milk)
1 cup cornstarch
2/3 cup Krisda Stevia for baking
Combine all the ingredients in a food processor or blender and whip until blended and powdered. Store in an airtight container.
This replacement can be used in any recipe calling for icing sugar.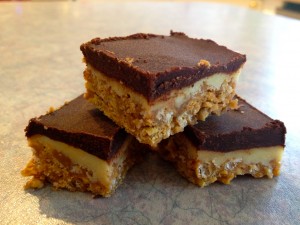 Yummy!