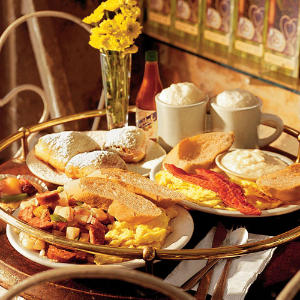 I love breakfast. It is my favorite meal of the day. I don't know if it's because I also love mornings that I love breakfast or if it is because there are so many yummy breakfast foods to choose from! Pancakes, eggs, bacon, oatmeal, waffles, cereal and toast! Oh and crepes, crepes are delicious, with all the different yummy fillings you can put inside. Yummy!
It's no wonder that sometimes I like making 'breakfast' for supper. Not only is it easy and fast but it is a nice treat. I usually add in some fruit of some kind or maybe a veg depending what I am actually making, but you can never go wrong. The kids always gobble it up and get very excited when they hear that we are having pancakes or waffles for dinner. In fact Luke and Chloe start clapping, jumping and screaming in delight. (I do too actually, on the inside).
As with other foods that are our favorites I have had to adjust these recipes to a dairy and sugar free version, which is quite easy to do. By now I have got the substitutions for things down pat and am able to take any recipe and make the appropriate adjustments.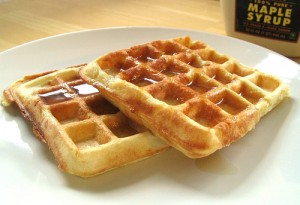 Last night we had waffles for supper. Waffles have always been one of my favorites, maybe because of the funky shape they come out in, maybe because it is another 'bread' type food and that is definitely one of my comfort foods. I like waffles because you can put so many things on them. You can put on the traditional butter and maple syrup or top it with fruit and ice cream or whip cream. I always find it fun as well to fill each little square with something. Yesterday I watched Luke do just that as he took blueberries and put one in each square of his waffle.
I have substituted date sugar in these recipes but have also used coconut sugar, which I tried with the plain waffles for the first time last night. Though they turned out lovely and tasted great, for some reason I enjoy the ones with date sugar better. Depending on your taste preferences you may choose to use one over the other as well.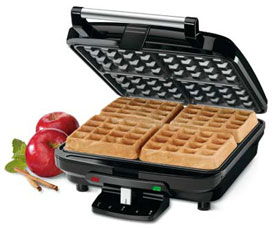 You do need a waffle iron to make waffles of course and my recommendation is to go with a non stick one. It is so easy to clean afterwards, you just wipe it down with hot soapy water. Sometimes I brush a little Earth Balance Vegan Spread over the plates before I make the first batch of waffles, but that's it – after that they are stick free and easy clean up!
So whether you are having breakfast or supper, try out these waffle recipes and enjoy them guilt free!
Plain Waffles
1 ½ c. flour
1 3/4 tbsp. date sugar or 2 tbsp. coconut sugar, optional I have made this recipe not using any kind of sugar at all and they do not affect the taste or turnout of the waffle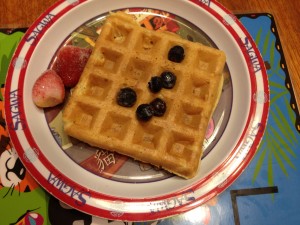 1 tbsp. baking powder
½ tsp. salt
2 egg whites, room temperature
2 egg yolks
¼ c. Earth Balance vegan spread, melted
1 ½ c. rice or almond milk
Stir first 4 ingredients together in a bowl. Make a well. Beat egg whites until stiff. Using the same beaters, beat egg yolks in separate bowl. Add Earth Balance and milk, mix. Pour into well. Fold in beaten eggs whites. Cook in hot waffle iron until browned, using about 1/3 c. batter for each.
Makes 12 waffles
Chocolate Waffles (these are quite yummy! but the recipe is small. Definitely double it)
1 egg
3/4 c. rice or almond milk
1 tbsp. cooking oil
1/2 tsp. vanilla
3/4 c. flour
1/4 c. cacao powder
3 tbsp. date sugar
1 tsp. baking powder
1/2 tsp. baking soda
1/4 tsp. salt
Beat egg in bowl. Add milk, cooking oil and vanilla. Beat in. Add next 6 ingredients, mix. Cook in hot waffle iron until crisp, using 1/3 c. batter for each.
Makes 6 waffles
Orange Dessert Waffles
1 c. flour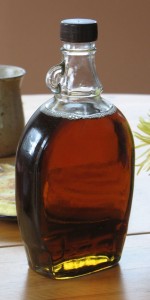 1/4 c. date sugar
2 tsp. baking powder
1/2 tsp. salt
2 tbsp. Earth Balance, melted
2 egg yolks
2 egg whites, room temperature
1 c. orange juice
Measure first 4 ingredients into bowl. Stir together. Add butter, egg yolks and orange juice. Mix lightly. Beat egg whites together in a small bowl until stiff. Fold into batter. Cook in hot waffle iron until browned using 1/3 c. batter for each. Arrange waffles on plates, sift icing sugar over top if using.
Makes 10 waffles
All original recipes are from Company's Coming Breakfast and Brunches. These recipes have been modified to a dairy free and sugar free recipe.