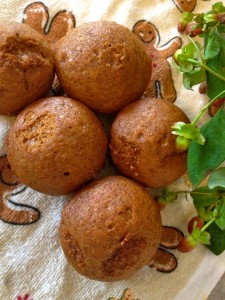 You know I love flavors and that I tend to go a little crazy when I find one I love! Making everything possible out of it. Like pumpkin, I love pumpkin (and actually this fall inherited a lot of pumpkin) so was making muffins, pies, ice cream, etc. Experimenting with all different kinds of recipes.
My recent obsession is gingerbread. Always fabulous this time of year and something I really enjoy. I love ginger in general and am often making fresh ginger tea and drinking it daily. (Ginger also has a lot of health benefits, like aiding with colds and flu, as well as prevent and eliminating nausea).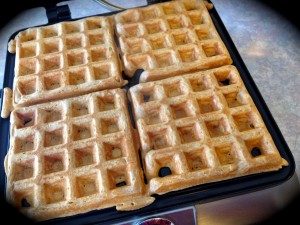 But I had never really thought you could do much more with gingerbread than cookies. I had tunnel vision and could not see out of the box. Cookies are the only thing right? Then last month I discovered a recipe for gingerbread waffles. Of course I knew right away that we had to try it. They were fabulous! and everyone gobbled them up. Which got me to thinking there must be other variations of gingerbread something out there. So I started looking – I had so far, cookies, waffles… what about muffins? Gingerbread muffins would surely be delicious.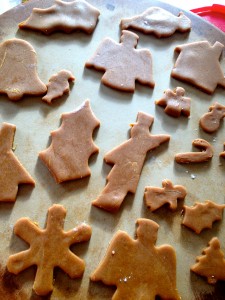 I did a quick Google search and a number of recipes popped up. I looked at a few, picked the one I liked the best and whipped them up yesterday! Ok I tried to whip them up, I had a bit of a baking travesty. I checked on my ingredients and thought I had everything I needed but as I went along I first discovered I was almost out of barley malt, then ginger, both I had just enough. Phew! Nope, didn't have enough Earth Balance – shoot! So I mixed it all together and set it aside until after I could run to the store.
Once I had my final ingredient, I finished mixing them up and put them in the oven to bake. I was curious and of course so were the kids (they always want muffins!) They poofed up beautifully and smelled delicious. That lovely gingerbread smell wafting through the house afterschool…Yum!
They were finally done, and after waiting a few minutes for them to cool, we dove in. They were delicious, super moist with just a subtle gingerbread taste, not too overpowering. Now I prefer a little more of a gingerbread flavoring kick, so I am going to play with the spices in this recipe a little to amp up the flavor. Once I do that, I'll report back to you 🙂 But since I have 36 muffins at the moment to enjoy I won't be experimenting with that one for a little bit.
You can easily half the recipe if you want to, 36 muffins is a lot, or you can bake them all and freeze them for later (if you remember they are in the freezer, personally I often forget that they are there and end up baking new ones anyway).
I also think these muffins would be fabulous with some kind of icing, which I am also going to experiment with and get back to you. For some reason I am thinking a nice cream cheese option would work…
Now that you are drooling, anticipating that warm moist gingerbread muffin in your mouth, here is the recipe. Completely sugar free and dairy free, it will be a hit at your house too!
Gingerbread Muffins
3 eggs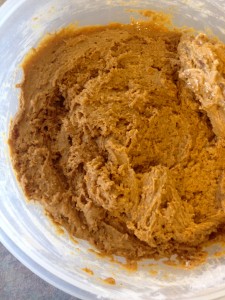 1 c. barley malt
1 c. coconut sugar
3 1/2 c. flour
1 tbsp. baking soda
1 tbsp. ground cloves
1 tbsp. ginger
1 c. Earth Balance vegan spread
1 c. hot water
Combine all ingredients in a large bowl. Lightly grease muffin tins with Earth Balance. Spoon batter into muffin tin about 2/3 full.  Bake at 350 F for 20-25 minutes.
Makes 36 muffins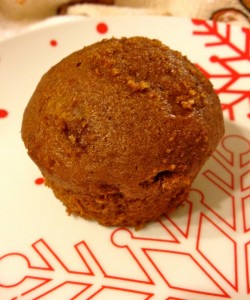 What is your favorite gingerbread recipe?