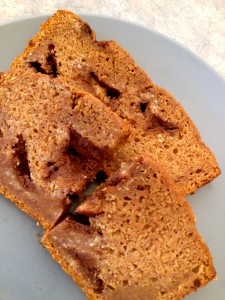 A traditional favorite in most homes, banana bread is a great way to use up those overripe bananas, turning them into something delicious! I have tried a few banana bread recipes from the one my Mom makes to one from my roommates in university and all have been delicious. But when I discovered this banana bread recipe I was in heaven! It was the most moist and the best banana bread that I had ever had. Containing no sugar, sweetened with applesauce and honey, and a boost of flaxseed, this is one healthy, but extremely yummy banana bread.
When I make it at our house, it never lasts more than a day because the kids and I gobble it up 2 or 3 pieces at a time.
I use my own *applesauce and chocolate, both homemade and of which I usually have on hand. The twins enjoy applesauce and cinnamon each morning at breakfast and I make up plain chocolate pieces that I keep in the fridge or freezer for whenever we need our chocolate fix.
Though you may have a favorite banana bread recipe, give this one a try, you won't be disappointed!
*to make the applesauce I simply slice and core 6 apples, boil them on the stove until soft, then drain the water and blend the apples in the blender until smooth. I do not peel the apples as the skin contains lots of vitamins that you lose when you peel them and blends up so small that you don't  notice it in the sauce.
Banana Bread
1 1/2 c. whole wheat flour
1 1/4 tsp. baking powder
1/2 tsp. baking soda
1 tbsp cinnamon
1 tbsp ground flaxseed
pinch of sea salt
3 ripe mashed bananas
2 egg whites
1/4 c. unsweetened applesauce
1/2 c. honey
1/4 c. flaxseed oil
1/3 c. chopped dark chocolate
chopped walnuts, optional
In a medium bowl combine flour, baking powder, baking soda, cinnamon, flaxseed and salt.
In a large bowl beat bananas until smooth. Add egg whites and mix. Gradually mix in applesauce, honey and flaxseed oil. Mix dry ingredients into banana mixture. Stir in chocolate.
Grease a 9×5 inch loaf pan with Earth Balance Vegan spread. Pour batter into pan and bake for 45 minutes or until cake tester when inserted comes out clean.