Getting around the sugary treats at Halloween can be a challenge. But with a little creativity you'll find that not only will your kids love the alternatives you provide but you will have a lot of fun making them.
Halloween is one of the best holidays to get creative! There is so much you can do, especially with your snacks! You can carve and shape your food into something gruesome! healthy (without all the sugar) and that the kids will enjoy.
Last year I planned a whole menu of healthy Halloween meals and snacks, starting with pumpkin pancakes for breakfast, pumpkin smoothies for afterschool snack and spooky mini pizzas with a veggie man for dinner. It was awesome and so much fun!
Matthew's class also decided that they were going to have a Horribly Healthy Halloween, and as a group decided not to bring in sugary treats for the class party. So everyone who brought food had to make sure that it was sugar free. They had veggie trays, fruit, cheese and crackers. Our contribution of Witches Teeth and Boo-nanas were a big hit and the kids gobbled them up, with the Boo-nanas being the favorite!
I've found that it is really easy and fun to go healthy at Halloween if you choose to. And I have found that the kids will eat what is put in front of them and the things that look fun and cool are the ones that go first, regardless if it's healthy.
Witches Teeth 
Apples
Slivered Almonds (if you can't do nuts use shelled sunflower seeds)
Quarter and core an apple, cut a wedge from the skin side of each quarter, then press slivered almonds in place for teeth.
Tip – If you are not going to serve them right away, baste the apples with orange juice to keep them from browning.
Boo-nanas 
Bananas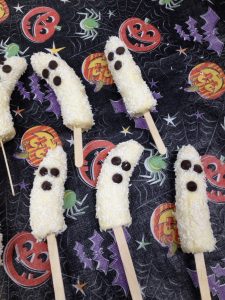 Unsweetened shredded coconut
Raisins
Orange juice
Popsicle sticks
Depending on the size of your banana, cut them in half or thirds. Dip peeled bananas in orange juice, then roll them in the shredded coconut. Add raisins for eyes. Insert a stick in the bottom to make them "float". Can be served as is or frozen.
Tangerine Pumpkins
tangerine or mandarin oranges
stalk of celery with leaves – cut into small pieces
This is the easiest and fastest fun treat yet! Peel your orange, do not take it apart and section it, keep it together. Cut small piece of celery and stick it in the middle of your orange (there is a natural hole there). Use a celery leaf and stick that in beside your stem. Voila! Done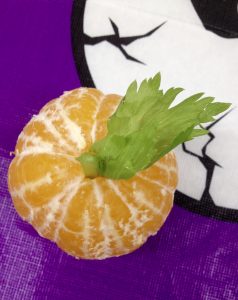 Spooky Drinks
Make your own juice ie. apple carrot and then add some carbonated water and a few peeled grapes. The kids will think it's gruesome, but they will love it and likely squeal with glee!
Nina Manolson of Healthy Yummy Kids shares many healthy Halloween recipes such as Caramel Apples (my favorite!), Banana Candy and many more. They are easy to make with ingredients that you likely have and use in your home already; and your kids will love them!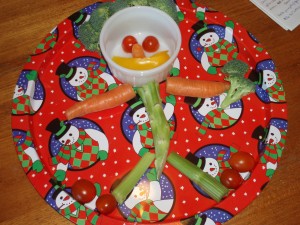 Looking for more? There are lots of websites out there that have many ideas for healthy, fun, cool snacks and meals for Halloween. If you google "Healthy Halloween snacks for kids" you'll have a plethora to choose from. Enjoy and have a spooky, fun and healthy Halloween!