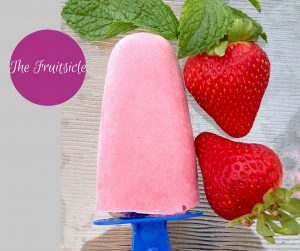 One of the things that is great about summer is the delicious frozen sweet treats that you get to enjoy on a hot summer's day. Creamy fudgsicles, ice cream, freezies, slushies, popsicles and more all offer a refreshing cooling treat.
The trouble is with most frozen sweet treats is the amount of added sugar (and color) that is in them to make them 'sweet'. Don't get me wrong, I love a sweet treat just as much as the other guy, but in eliminating refined sugar at our house, we have learned not only how to naturally sweeten our treats, but also that we don't need it as sweet anymore. Our tastebuds have adjusted and we enjoy the natural flavors and sweetness of fruit (and foods) without the added sugars.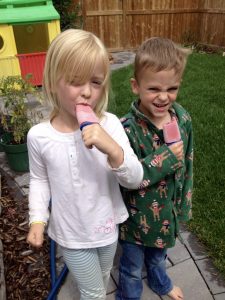 When I was growing up it was not uncommon for my mother to make popsicles simply by pouring fruit juice into popsicle molds and freezing them. As long as the juice was unsweetened we were already enjoying a yummy cooling sugar free treat.
When I became a mother I made these kinds of popsicles for my kids as well. The thing is, I often found that once you sucked on them for a while, all the juice was gone and you were left with ice on a stick. I was looking for a frozen sweet treat that would have flavor all the way through and of course, naturally sweetened.
My first discovery was Grasshopper Popsicles, a mixture of blackberries and spinach, yes I said spinach, and a few other ingredients to put it all together. For a while this was our staple popsicle, which the kids really enjoyed. It was my mother when visiting one summer, who introduced us to this simple creamy popsicle that has added a little more variety to our popsicle pickings.
The Fruitsicle, as she calls it, is a fruity, creamy, dairy free, sugar free popsicle that is super easy to make. You just put all the ingredients into the blender and mix, then pour into the popsicle molds and wait for it to freeze. (The waiting is the hardest part, my kids were continually asking me if they were ready yet).
The Fresh Fruitsicle
1-2 cups fresh strawberries, trimmed
1 ripe banana, peeled and cut into chunks
½ cup coconut milk
1 to 2 tablespoons raw honey
Put all ingredients into blender and blend until smooth. Pour mixture into popsicle molds and freeze for 6-8 hours or overnight.
*if you'd like your popsicle to be a little sweeter simply add more honey or more strawberries to the mix
Makes 8-9 popsicles depending on the size of your popsicle mold