Watermelon is such a refreshing snack in the summertime. Full of vitamins and minerals, it can be more then just a cut and serve option.
For some reason I had always thought that watermelon was just that, cut, slice and serve, that you couldn't really do anything else with it. I have no idea why I thought that, maybe it was just the ease of preparing a refreshing summer snack. But lately I started exploring a few other watermelon recipes (like a watermelon smoothie, oh my so yummy!).
I had always heard of a watermelon salad but kind of thought it was weird. I'd often see them at an event or a buffet and pass it by as it just didn't appeal to me. Well I had no idea what I was missing!
When I decided to explore watermelon recipes I knew that a watermelon salad was the first one to try! It turned out that I found two that are really good. Both are uniquely different and delicious, so I can't really say that one is better than the other. It honestly depends on what flavors you are looking for in the moment. Both have the lovely addition of fresh lime juice, which is not only nice in the summer, but actually brings out the flavor and sweetness in the watermelon.
The first watermelon salad is the more common recipe with feta cheese and red onion (which honestly at first I thought it was totally weird to add feta and onion to watermelon), while the second is a nice crisp, refreshing fruit salad. Which I actually quite enjoyed, even though it called for blackberries. In general I do not like blackberries and usually buy them for the kids and skip them myself. But since it was in the salad I decided to try it. I actually found the blackberries to be quite lovely, they added a really unique flavor to it, and I enjoyed quite a bit.
Both watermelon salads were a hit with the kids! They gobbled them up and asked for more (I think they were quite enjoying my experimentation with these recipes). And I have to say myself, a watermelon salad is a very nice change in how watermelon is served (and it does not take long to prepare – I am all about ease, especially in the summertime!)
Both salads are best when made just prior to serving. When the watermelon sits for too long it tends to get limp and soggy. Make one hour or less before ready to eat.
Watermelon Salad
4 c. watermelon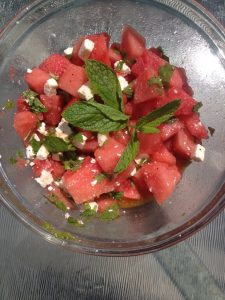 1/4 red onion, finely sliced
2 tbsp. fresh chopped mint leaves
1c. feta cheese, crumbled
1/4 c. olive oil
3/4 of lime, juiced or 2-3 drops Lime essential oil
1/4 tsp. pepper & a shake
Cut rind from the watermelon and cut into 1 inch chunks. Place watermelon into medium size bowl. Chop mint. Combine olive oil, lime juice and pepper to create dressing.
Pour dressing and chopped mint over watermelon. Toss gently to coat.
Pour crumbled feta over salad and stir gently to combine. Enjoy!
Serves 4
Watermelon Blackberry Salad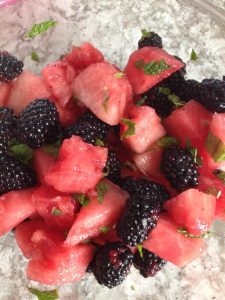 3 c. cubed watermelon
1 1/2 c. blackberries
2 tbsp. fresh finely chopped mint
Juice of one lime or 2-3 drops of Lime essential oil
Cut the rind off the watermelon and cut into one inch chunks. Place watermelon into medium bowl. Chop mint and add to bowl. Add blackberries. Squeeze fresh lime juice over the fruit. Gently toss to combine and serve.
Serves 4
Have a fantastic watermelon salad recipe? Share in the comments below