Growing up I always loved a can of baked beans. They reminded me of sitting around the campfire and enjoying them usually with hot dogs. But when we changed our diet canned baked beans was another thing that had to go! 🙁 Usually made with brown sugar and molasses (molasses being the worst culprit; which is 50% sucrose and is actually a by product of making refined white sugar, with the added chemicals) I had to forgo baked beans for awhile.
In fact, I never thought that I could make my own. Funny enough I thought they come in a can so how could I? Yet one day we went for supper at my neighbors house and he had made them from scratch. Thinking nothing of it, a little while later my mother said she wanted to make baked beans for the camping trip that she and my father were taking my oldest son Matthew on. I then remembered that my neighbor had made them and kindly asked for his recipe.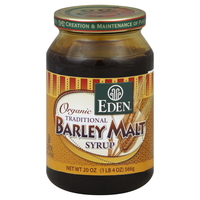 By this time I knew enough about different natural substitutes to make the necessary changes in ingredients. Barley Malt is often substituted for molasses and we had found a ketchup, that was not only organic but sweetened with honey. It was perfect!
And of course I love using my slow cooker, putting something in in the morning and let it cook slowly all day, the sweet smells wafting through the house as it cooks. By the time they are ready to eat our mouths are watering in anticipation!
The recipe turned out beautifully and so delicious! I often make them myself when we go camping and just reheat when we get there. I even make them at home from time to time and they are always gobbled up! I have a friend who I introduced them to, who now says that he will never be able to go back to the canned ones. Which I guess is good and bad 🙂
True, this is not a recipe that you can whip up in 30 minutes, but it is totally worth the time it takes to make them. And really it only takes a little prep and preplanning.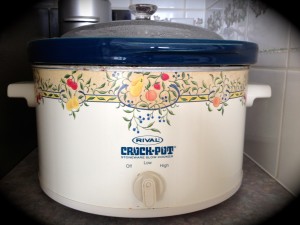 Now the original recipe calls for only 1/3 pkg. of bacon but I use the whole thing. In fact I buy the cheapest and fattiest brand I can find, which is probably why mine are better than my Mum's even though we are using the exact same recipe! (sorry Mum)
So whether you are looking for something around the campfire or warm comfort food at home these beans will not disappoint! Once you've tried this recipe please return and share your comments about how they turned out.
Baked Beans
2 cups red kidney beans (soaked overnight)
1 pkg. bacon
1 onion chopped
1/2 c. Honey Bunny Bodacious Ketchup
1/3 c. pure maple syrup
1/4 c. barley malt
1 tsp. dry mustard
Soak beans overnight in water. Use a large container and add in generous amounts of water as beans will soak up quite a bit of it. Cover with lid.
Boil gently soaked beans until soft. Put beans into crock pot. Mix the rest of the ingredients together in a bowl and pour over beans. Cover and put on low. Cook all day (for a minimum of 8 hours)
*if you prefer a sweeter recipe you can adjust maple syrup and barley malt to taste