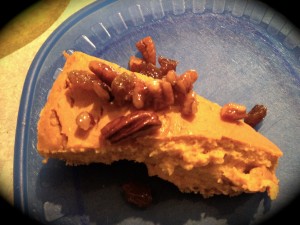 One of the many things I have always enjoyed about the holidays is all the treats and goodies that come with the season. Yummy cookies and squares, family favorites and traditions that I grew up with.
Slowly I have been adjusting these favorites, such as Chocolate Peanut Butter Cereal Squares, Candy Cane cookies and Isch Tartlets, to name a few, to a sugar and dairy free version for us to enjoy. But I love it when  I find a new recipe that I think fits the 'holiday bill', that requires no adjusting. This was the case with the Sweet Potato Pecan Pie which I found in Clean Eating magazine. The picture alone looked scrumptious so I knew I had to try it!
I have to admit I did make some adjustments to the original recipe, not because it was not fine as it was, but because I decided to make some different choices. For instance it called for olive oil in the crust and though I am sure it would have turned out fine, the thought of it made my stomach roll, so I used coconut oil instead.
The pie was a hit with everyone, all the kids loved it and my Mum, as she was visiting (though she loves sweet potatoes so it wasn't a hard sell). Of course it is super good for you too!
Sweet Potato Pecan Pie
2 sweet potatoes, peeled and chopped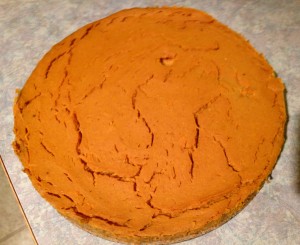 1 ¼ c. rolled oats
¾ c. pecan halves
1/3 c. almond flour
¾ c. coconut sugar
2 tbsp. plus 2 tsp. coconut oil
1 ½ tsp. pumpkin pie spice
1/8 tsp. plus ¼ tsp. sea salt
1 cup organic firm silken tofu
1 tsp. pure vanilla extract
½ c. unsweetened golden raisins
2 tbsp. pure maple syrup
Place potatoes in medium saucepan and add enough water to cover. Bring to boil and cook until potatoes are tender, 12-15 minutes. Drain potatoes and transfer to a food processor. Puree until smooth. Transfer to fridge and chill completely about 30 minutes.
Prepare crust by putting rolled oats and ¼ c. of pecans into food processor. Puree until in a fine powder. Add almond flour, ¼ c. coconut sugar, 2 tbsp. coconut oil, ½ tsp. pumpkin pie spice, 1/8 tsp. sea salt. Pulse until combined. Gently press mixture evenly into the bottom of a non stick 9 inch spring form pan. Place pan in oven and bake for 18-120 minutes or until crust is golden brown. Remove from oven and let crust cool completely.
Prepare filling by pureeing tofu, remaining ½ c. coconut sugar, vanilla, remaining 1 tsp. pumpkin pie spice and remaining ¼ tsp. salt until smooth.
Add chilled potato puree and pulse until just combined and smooth. Pour into cooled pie crust and smooth top with spatula. Bake for 40-45 minutes, until filling is just firm in the center, light golden on top and cracks begin to form in the center of the filling. Remove from oven and let cool completely, about 2 hours.
While pie cools, prepare pecan topping.  In a small saucepan on high, heat remaining ½ c. pecans, raisins, maple syrup, 2 tsp. coconut oil and 2 tbsp. water until simmering. Reduce heat to medium and simmer stirring frequently, for about 5 minutes, until no liquid remains in pan. Transfer mixture to bowl and let cool completely.
To serve run a sharp paring knife around the outside of pie to loosen from sides. Remove sides from spring form pan. Sprinkle pecan topping over top of pie and slice.
Serves 10