Recently I have discovered a lot of recipes with chia seeds in them. I haven't been purposely looking for them, the recipes I have been picking up lately (such as Chocolate Macaroons) just happen to have them in it. The nice thing about this, I discovered, is that chia seeds are considered another superfood with multiple health benefits. They stabilize blood sugar, reduce cravings for sweets, improve mental focus, are a high quality protein, improve cardiovascular health and many more.
When I first heard about chia seeds I actually wasn't sure what to do with them and thought they were funny things, these tiny seeds that look like poppy seeds. I knew they had great health benefits but what was the use if I could not use them? Then I found this recipe for chia seed pudding, which I have to admit when I first looked at it thought "Eww! seeds in my pudding". But since I am into expanding my repertoire of sugar free and dairy free treats I thought I would try it.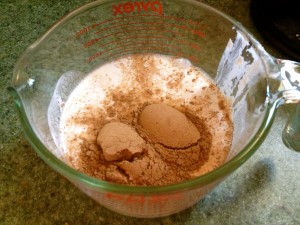 I decided to make it for the first time when I was in BC this summer visiting my parents. My Mum is into these things as well and I always like a willing crowd to be my guinea pigs. The first thing I loved about this recipe is that it takes no time at all to make; less than 5 minutes. You literally whisk together the ingredients in a bowl and let it sit. That's it. I didn't even divide it amongst individual glasses like it suggested, I just left it in the bowl I made it in. (I also found that though this recipe says serves 4 but you can easily serve 6 and everyone has a decent sized portion).
The second thing I really liked is that when you let the chia seeds sit for a bit they actually expand (size and weight), so it gives the pudding some texture, similar to tapioca. Which is another health benefit, as this 'gelling action' when the seed is exposed to water gives you a full feeling for hours – which is great for maintaining a healthy weight. (I also think it's fascinating 🙂
The pudding was a hit with my parents and the kids. Enough that I have made it again recently and will do so again. I have also discovered a recipe for a Raspberry Chia Seed Pudding, which I have yet to try, but imagine will be just as good.
Chocolate Chia Seed Pudding
1 1/2 c. coconut milk
4 tbsp. maple syrup or honey
2 tbsp. cacao powder
1 tbsp. vanilla extract
1/3 c. chia seeds
**top with berries or coconut cream if desired
Whisk coconut milk, maple syrup or honey, cacao powder and vanilla until smooth. Stir in chia seeds. May divide evenly between 4 glasses or leave in bowl. Let sit at room temperature for 2 hours and serve.
Serves 4 **(You can easily serve 6 with this recipe and have decent sized portions if desired)