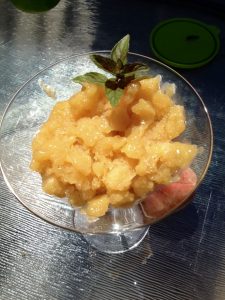 A highlight for many in the summer is slushy frozen drinks. Often times we would simply pop to the 7-11 and grab a slushy, but once I started paying more attention to what actually went into these slushies (can we say mountains of sugar and artificial flavors?) I was on the hunt for a slushy recipe that I could easily make at home (and without all the sugar!)
When I started browsing for ideas I came across this recipe for a peach slush; which it turned out I had already saved a while back in my recipes to try. It was also the perfect time to try it as we had just returned from the Okanagan with a mountain of fresh peaches.There is nothing like using your fresh fruit to make your delectable treats! It was a perfect fit. Peaches are also rich in vitamins such as Vitamin A, beta carotene and Vitamin C, as well as many minerals so super good for you!
At first I was a little hesitant to make it cause though it was a quick mix of ingredients in the blender, it was the 1 to 2 hours of waiting and stirring that deterred me a little bit. I kind of like instant! Plus I sometimes forget when I have to pay attention to things to stir every so often. But I found a way to make it work and honestly it was not that bad. Plus it makes a great easy, healthy, naturally sweetened frozen treat that you can make and enjoy at home.
The original recipe did not call for any sweetener but I found it needed just a little bit so I added in a teaspoon of honey. Depending on your level of desired sweetness will depend on whether you opt in to add it yourself. I can also see this recipe working well with other fruit such as strawberries, raspberries, maybe even watermelon.
Of course the kids enjoyed it. They are great little testers of Mom's new recipes and help me adjust it when needed. Try it out and let me know what you think.
Peach Slush
2 fresh peaches, peeled and chopped
1/8 c. water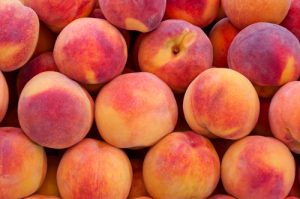 1 tsp. honey
1 tsp. fresh lime juice
Peel peaches by putting them in boiling water for 30 seconds. Chop peaches into chunks and put in a blender.
Add water, honey and lime juice. Blend until smooth consistency.
Pour into a 9×13 pan and freeze in freezer for one to two hours. Stir a few times so that it does not freeze into a solid block.
When ready stir and whip it up with a fork so it has a nice slushy consistency.
Serve immediately in a cold dish. Makes 2 small servings
Have a great slush recipe? Share in the comments below.