Breakfast is definitely one of my favorite meals as there are so many yummy options! Pancakes, eggs, omelettes, waffles, crepes, fruit… I like brunch even better and often enjoy those big brunch spreads that you can find where there is everything from crepes and omelettes made to order to carved roast beef and a chocolate fountain (my mouth is salivating at the thought). The selection is fabulous and there is something for everyone.
When I was growing up we did a big Easter dinner with the ham and scallop potatoes, but when I started my own family we moved to doing an Easter Brunch. This allowed the kids to get up and hunt for baskets and then to enjoy a nice meal later in the morning, leaving dinner to be a simple affair with no one stuck in the kitchen for the day or doing the big clean up in the evening!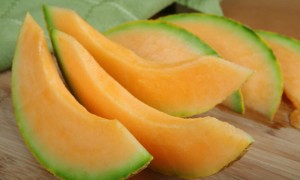 I have found this to be a great shift, especially because brunch incorporates many of my favorite foods! Depending on how many people we have for brunch depends on how many different dishes I make, but traditional standard fare seems to be a quiche (which I love), waffles (which I also love but the kids do as well, they are not fans of quiche) and some fruit, usually consisting of cantalope, fresh strawberries and whatever else is in season.
The best quiche recipe I have found is a recipe I got from my Mum. Many people tend to avoid making quiche because of the crust, but this recipe for Impossible Quiche, is one where the crust 'makes itself'. It's true, by putting all the ingredients into the blender, the Bisquik sinks to the bottom while it bakes and creates a nice light crust. Simple, easy and takes no time at all. Of course I do enjoy quiche with a nice traditional crust as well but this recipe is quite satisfying and like I said easy to make!
Impossible Quiche
1 c. grated vegan cheese (mozza or swiss)
1/3 c. finely chopped onion
sliced mushrooms
spinach
1/2 c. Bisquik
1/4 tsp. salt
1/8 tsp. pepper
4 eggs
2 c. almond milk or dairy free milk of choice
Lightly grease 10″ pie plate or quiche dish. Sprinkle cheese, onion, mushrooms and spinach (or other desired toppings) evenly over the bottom of the plate. Place remaining ingredients in the blender and blend at high speed for 1 minute. Pour into dish.
Bake at 350 F for 50-55 minutes, or until golden brown and knife inserted in center comes out clean. Let stand.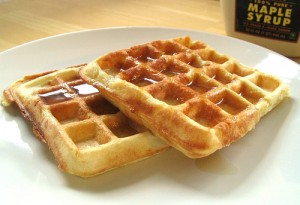 As I said, waffles are often part of our brunch spread and I have found some great recipes for plain, chocolate and orange waffles. The chocolate ones are to die for! While the plain ones are fantastic with maple syrup or adding some fruit and a little ice cream (Rice Dream is a yummy dairy and sugar free alternative to dairy ice cream if you're looking for dairy free).
I am already looking forward to our Easter Brunch! and all the possible choices. Whatever you choose this year whether it be Easter brunch or Easter dinner, I hope you have a wonderful feast that you can share with family and friends! Happy Easter!