I don't know about you but I get a lot of newsletters. I like to try new things, so if I come across something I try it out and before I know it I have been automatically signed up for their newsletter (though I realize the new anti-spam laws are meant to prevent this).
From time to time I go through and weed out the ones I don't really read or pay attention to and unsubscribe. Others I scan periodically looking for those little gems and remember why I signed up for it in the first place; then keep it in my inbox. Those gems are what keep me hooked, keep me reading the newsletters and staying on.
The ones that keep me hooked the most are the ones with yummy recipes that I discover and want to try, something I may not have thought of or come across otherwise. These are my favorite discoveries, some delectable dish just waiting to grace my plate and win my approval.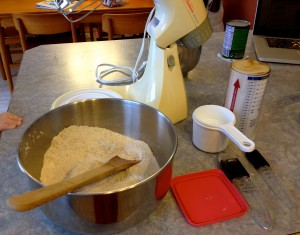 I found one of those gems earlier this week, when scanning the most recent Sobeys flyer. Luke and Chloe were with me, sitting on my lap, when I discovered these gingerbread waffles. I love gingerbread and I love waffles, so I was sure gingerbread waffles would definitely be a fabulous combination and treat. I ooed and awed and quickly clicked on the link, spreading my excitement to Luke and Chloe, as we waited in anticipation to see what was on the ingredient list. Looked easy enough, so we planned to try them.
It was so cute this morning as we came downstairs to make them for breakfast. Luke and Chloe got their chairs and wanted to help make them. Luke kept chatting away about trying them and we'll see if they turn out and it was ok if they didn't. Quite interesting chatter for a 4 year old. They were definitely excited.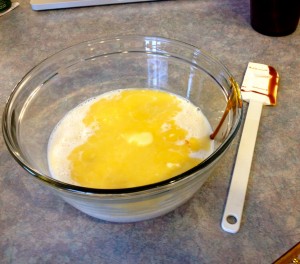 Making all the appropriate adjustments (dairy and sugar), these waffles turned out fabulously! Perfectly golden brown, fluffy, with a subtle (not overwhelming) taste of gingerbread, they are not only delicious but very filling! After only having 2 waffles I was quite full.
The kids loved them of course and were also quite happy with how they turned out. We even broke out the Christmas dishes to enjoy them! Now I have another fantastic waffle recipe to add to my repertoire of delectable waffles (plain, chocolate, orange) and new options for breakfasts and brunches, especially Christmas morning breakfast. Who wouldn't love to have gingerbread for breakfast on Christmas?
I would like to try this recipe using coconut milk instead of almond milk (though really the almond milk version turned out very well), just to see what the difference is and if we like it even more. You never know til you try! So next time I make them we'll give it a go.
In the meantime, enjoy these yummy dairy free, sugar free, gingerbread waffles, topped with pure maple syrup they are sure to be a hit this holiday season!
Gingerbread Waffles
1 1/4 c. whole wheat flour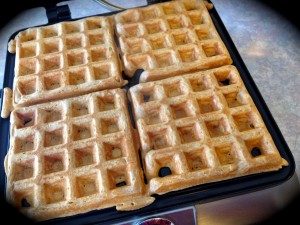 1c. all purpose flour
2 tbsp. coconut sugar
1 1/2 tsp. baking powder
1 tsp. baking soda
1/4 tsp. sea salt
2 tsp. cinnamon or 2 drops Cinnamon Bark essential oil
2 tsp. ginger or 3 drops Ginger essential oil
1/4 tsp. nutmeg
1/4 tsp. ground cloves or a toothpick dip of Clove essential oil
1 1/2 c. almond milk
3 eggs
1/4 c. barley malt
1/4 c. Earth Balance vegan spread, melted
In a medium bowl, whisk together dry ingredients (flour, coconut sugar, baking soda, baking powder, salt and spices).
In a small bowl, whisk together almond milk, eggs, barley malt and melted Earth Balance. Add barley malt mixture to dry ingredients and stir until well combined.
Fill a greased waffle iron with approx. 1/2 cup (125 mL) of batter per waffle. Cook until golden and cooked through, about 3 min. per waffle. Repeat until all batter is used. Serve with Pure Maple Syrup and a dollop of coconut cream! **the coconut cream is delicious and really makes the spices in the waffles pop – highly recommend it!