It has been 9 years since we have eliminated refined sugars from our diet. This was for the benefit of my son who was not only experiencing extreme mood and behavior but was having trouble sleeping as well.
Though it was challenging to do in our everyday lives, the real challenge came around the holidays, as in our culture there is a lot of focus around food and feasts, especially sweets. As you can imagine Halloween is the biggest, with the entire focus of trick or treating being on collecting candy, with Easter being a close second.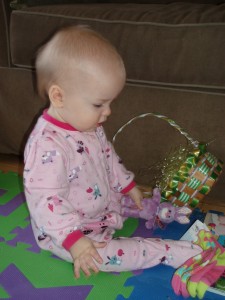 Over the years we have found many different tips and tricks to enjoy these holidays without the focus being on all the candy and chocolates. I have to admit our first sugar free Easter was a bit of a challenge. My son, who was only 7 at the time, was old enough to remember the basket and eggs full of chocolates and jelly beans, so when Easter morning he discovered a basket full of socks and books, he was a little disappointed and understandably so.
I did my best to make things special by making our usual Easter Brunch, complete with eggs and sausages, waffles and fruit, which he enjoyed immensely. He then got treated with a new pair of sneakers from Grandpa and a cactus for his room. He soon forgot about all the things he was missing and was enjoying what he had.
The next year was better, as in the interim I had taken a class on how to make raw organic chocolates so was able to make chocolates we could enjoy, in addition to the new treats that the Easter Bunny brought for us.
For the twins, it has been a non issue as a sugar free Easter is the only kind of Easter they have known. I imagine as they get older they will learn what other children do for Easter and it may or may not matter to them, but I believe that because they will have known this way since birth that they will have a strong foundation and may feel very happy with our Easter regardless.
Now Easter is back to being another fun holiday that we all enjoy with our various traditions and 'treats'. The kids baskets are full of non candy items, the eggs full of cash, sugar free (and good for you) chocolate and a wonderful mid morning feast of our favorite breakfast foods. Of course we add in other things from year to year, but those are the 'basics'. No one feels denied or left out, nor focuses are what's missing but appreciates and gets excited about what we have.
Ideas for a Sugar Free Easter (or sugar reduced)
If you are looking to reduce the sugar intake this Easter here are some tips on how to do so without the kids feeling disappointed:
Fill Easter baskets with toys, socks, books, sunglasses, seeds, gardening gloves, bubbles, chalk, etc. I like to buy things that are inexpensive but not cheap, as well as things that they will enjoy and use. One year Matthew got a movie he wanted and a few smaller items. It can vary from year to year but I am not one to buy junkie trinkets just to fill the basket.
Make your own chocolate with natural sweeteners. It is easy to make your own chocolates; you can get Easter molds (I have found some at the Dollar Store) and add anything you want to it. You could even get the kids to make them with you, ready for Easter morning.
Plan an Easter Egg Hunt. We have lots of those plastic Easter eggs that I fill with coins or stickers. Usually I leave a little trail from their bedrooms down the stairs and hide them all over the main level. Sometimes they even get hidden outside. There are many ways you can set up the hunt and ideas for non candy items to put in the eggs.  They could just be clues that will lead the kids to a prize of some sort at the end.
Make a yummy (sugar free) Easter brunch or breakfast. If the kids are looking forward to their favorite french toast or waffles, they will likely be distracted and awaiting that yummy feast.
Do Easter crafts or activities. Most kids love crafts, even my 10 year old son will still sit down and do a craft, painting or art project.
Decorate the house for Easter. If the kids get into decorating the house this takes the focus off the candies and onto other stuff. The twins have been 'decorating' for weeks, setting up army men around the Easter tree or hanging crafts they made at preschool in their room. Decorating also makes it more than just about the one day and makes it more of an event.
Get others on board. Encourage other family members and friends to get non sugary treats for everyone; then the kids see that everyone is getting the same, so it must be ok.
Color eggs. You can do this on Easter as an activity or prior to. Either way it is another way of removing the focus and putting it onto something else that is fun and enjoyable.
Be grateful. Encourage the kids to be grateful for what they have. Create a gratitude jar or choose another gratitude activity to do do with them.
No matter what you do have fun. Whether you are creating new traditions, foods, or making crafts enjoy the Easter holiday. Remember why we celebrate, and what is most important to you as a family this holiday.