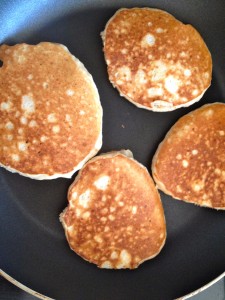 Yesterday many of us celebrated Pancake Tuesday. A tradition that began in the Middle Ages this day has grown and enjoyed by people around the world.
Enjoying pancakes for supper is one of my favorite things (in fact I love anything breakfast for supper, there are so many fabulous breakfast foods out there) but on Pancake Tuesday I like to spice it up a little and make a recipe that is more than just your regular plain pancake – though those are just as delicious!
There are so many kinds of pancakes to choose from. Some of our favorites are pumpkin and oatmeal banana. There are gluten free options, dairy free, coconut and fruit options. You name it, you can basically find it and make it.
Yesterday I decided to try out an apple cinnamon pancake recipe (at the suggestion of my mother who was here on the weekend). I didn't have one so I quickly googled it and found a number of apple cinnamon recipes to choose from. My favorite was on dairygoodness.ca, where they suggested using maple syrup as the sweetener as well as a mix of flours.
Of course I had to make a couple of other quick substitutions to make it dairy free (as that is part of our diet as well) and went to work mixing up the dough. The most time consuming part was shredding the apples but otherwise is a quick and easy recipe to make.
It was a huge hit! Everyone loved them. They had just the right amount of apple, not overwhelming and with a little bit of syrup…Yum! They were fabulous. My modified dairy and sugar free version is below.
Apple Cinnamon Pancakes
1 1/2 c. all purpose flour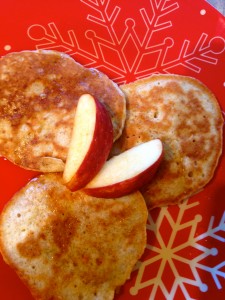 1 1/2 c. whole wheat flour
1 tbsp. baking powder
1 tsp. cinnamon
1/2 tsp. sea salt
3 eggs
2 1/2 c. almond milk
1/4 c. Earth Balance vegan spread, melted
2 tbsp. pure maple syrup
1 1/2 c. shredded apple
In a large bowl mix flours, baking powder, cinnamon and salt. In a separate bowl, mix eggs, almond milk, melted Earth Balance and maple syrup. Pour over dry ingredients and add apples. Stir gently until just combined – a few lumps may remain.
In a large non stick skillet, heat a small amount of butter. Scoop about 1/3 c. of batter per pancake into skillet. Cook approximately 2 minutes or until bubbles form in batter. Turn over and cook 1 to 2 minutes more until golden and fluffy. Repeat with remaining pancake batter.