Each year for Halloween I love to dive into the food and all the creative ideas there are. There are so many fabulous ideas on how to create spooky, fun and healthy meals and snacks that I often have a hard time picking just one.
We usually have an entire day of Halloween meals and snacks, starting with pumpkin pancakes in the morning in fun Halloween shapes, then boo-nanas for snacks and something creative for supper. In the past I have made dinners such as monster face pizzas and hot dog mummies.
Last year I happened to be at my girlfriends house just before Halloween and she had this cooking show on tv that was highlighting some spooky Halloween dinner ideas. Of course they had lots of fun things going on but the one that stood out for me was the idea for Monster Brains. It is a super easy creative idea to make spaghetti and meatballs and give it a Halloween twist. I loved it! and decided right then that I was going to make it for Halloween dinner.
I was super excited as it was not only going to be fun but quick and easy to make. I am all about getting creative but sometimes I need creative to be fast!
Monster Brains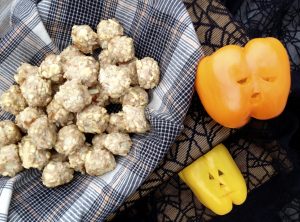 red, yellow, orange peppers (number of peppers depends on how many people you're serving as it is 1 per person)
cooked spaghetti
cooked meatballs
tomato sauce
Cut off the top of your pepper like you would when carving a pumpkin – around the top in a circle so you can take the lid off. Clean out the seeds.
Cut a face on the front of your pepper. Design it any way you like. You can go with fancy but that takes more time! I went with simple triangle eyes, nose and slit mouth.
Bake meatballs in oven (I make my own and premade these the day before and just reheated them). Cook spaghetti according to package directions. Rinse spaghetti with hot water in a colander. Fill each pepper with spaghetti and meatballs. Top with tomato sauce and place 'lid' of pepper on top. Have some of the spaghetti spilling out the sides for effect. Voila! one spooky monster brain supper!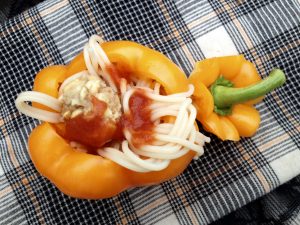 My kids of course absolutely loved these and are already asking me if they can have that again for Halloween dinner this year. We may… or I may get creative and do something else!