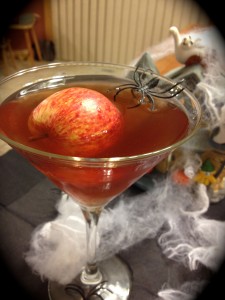 I am so excited about Halloween this year! For the first time in years I am going to a Halloween party. That's right, dressing up, going dancing and socializing with other adults. It's been years since I have done this and though I have always wanted to have more of an adult experience around Halloween, it was often more about the kids, their costumes, their events and trick or treating. So my adult adventure never worked out.
Not that I don't enjoy hanging with the kids and doing all kinds of activities with them around Halloween. Each year I find fun new Halloween crafts to do, create a Halloween menu for the day (which traditionally includes pumpkin pancakes – yum!), and add more to the decorations we have around the house and outside on the front lawn.
It's fun, I get very excited (almost as much as I do for Christmas), as do the kids and we spend a good couple of weeks preparing, planning and expanding on our Halloween adventures.
But I would be lying if I said I am not looking forward to my adult Halloween. There's just something about no bedtimes to worry about, no other people to be responsible for, and an evening where you can enjoy the company of other adults sans enfants.
So in the spirit of Halloween I started thinking about what I could do to add a little more 'adult' to my Halloween. What was out there that could make things a little more interesting? I always enjoy finding some new recipe to make in some kind of fun Halloween shape or theme. Last year I discovered Bat Bites, a cream cheese ball rolled in poppy seeds with tortilla chips for wings. Not only did they look super cool but they were also delicious!
This year I decided to go with some kind of Halloween drinks, some spooky concoction I could whip up in the kitchen. And with my new adventures in trying different martinis I decided there must be some kind of Halloween martini out there and would be the perfect fit! I hopped on Pinterest to see what I could find.
I was not disappointed, I found an abundance of Halloween themed martinis, the question was which one to try? Of course I wanted one that was sugar and dairy free, or one that I could modify easily. Yes I know, but this would just make things simpler and I would feel less gross after (I have really noticed that if I fall off the wagon, even a little bit with that I just feel sick after, my stomach is not happy at all).
I discovered a few and now have a list of martinis to try, such as the Black Widow and Witches Brew. But I did of course feel I should try at least one right away, so that I had something to share with everyone this week, you know to enjoy your adult Halloween this year.
The Poison Apple, a fabulous mixture of apple juice, pomegranite juice, honey and tequila, even a little healthy. Deadly in it's title, it is also deadly delicious. I made two versions last night. First a virgin martini, omitting the alcohol, so that I could share with my son while we enjoyed our show for the evening. Then the full on version a little later, after he went to bed, you know so I could get a good idea of what it tasted like before I suggested it to all of you.
Both are very good, I love the pomegranite juice, but the one with the alcohol has a definite strength to it. Even if you are not a fan of tequila, you will likely still enjoy it as the juices and the honey sweeten it just enough to make it go down nice and smooth. You can even add in an apple floating in it for effect. Pretty cool.
I am looking forward to trying out those other martinis, though I have to purchase some ingredients first. There were even some recipes with dry ice, which would be super cool to do!
Poison Apple Martini
2 oz. apple juice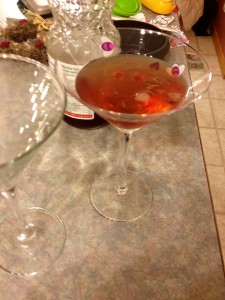 1 oz. pomegranite juice
2 oz. tequlia
1 tsp. honey
Fill martini shaker with ice. Mix ingredients together in shaker. Shake well, pour into chilled martini glass and enjoy!
What's your favorite Halloween drink?