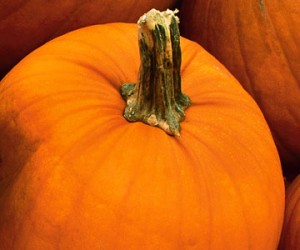 It's coming… Thanksgiving and all things pumpkin! Big feasts, meals with friends and did I mention pumpkin? I love pumpkin and all things related to it, especially pumpkin pie. And Thanksgiving seems to be the only time of year that I make or get some.
Of course with any pie you can make any kind any time you want. But I seem to fall into the  times of the year when they are most prominent, as I imagine do many of us. So though I love pumpkin pie and it is my favorite, I do only get it once a year.
Every year at Thanksgiving I decide I am going to try a new pumpkin recipe, as my sister often makes things like pumpkin ice cream, pumpkin tarts and pumpkin cheesecake. And though I love to branch out and try new things I tend to fall back to my pie. What can I say? It seems just wrong to not have it.
This year I truly did branch out and I made a pumpkin cheesecake for the first time. Not specifically for Thanksgiving, because of course I will make pie, but around the right time 🙂 I found a recipe on Pinterest that looked really good and thought that I would try it.
Being dairy free I thought that I would just have to avoid cheesecake altogether. During the summer my friend decided to try a tofu chocolate cheesecake, which gave me hope. I thought that it would prove to be quite good. Not so much. Though not terrible we both agreed that we would not make it again. Then, I remembered that they make non dairy cream cheese and I had tried it before and liked it, so why not just substitute that into a regular cheesecake recipe? This got me very excited so I went to work.
After I got over just how much cream cheese this recipe called for; I went out got the ingredients and looked at what other substitutions I needed to make. The crust was a bit of a challenge as it called for graham wafers, but I came up with a solution using almond mash leftover from making almond milk, as I had done something similar making a pie before. I substituted coconut sugar for the sugar and then of course the non dairy cream cheese and sour cream (yes this recipe called for sour cream which was another reason why this particular cheesecake recipe intrigued me).
Now this recipe is not one that you can just whip up and have ready in an hour. In fact when I finally went to make it I looked at the recipe, and in reading it more closely almost aborted the whole idea. It was a lot of time, a number of steps and would not be fully ready until the next day (as when it was finished baking you had to let it sit in the fridge overnight).
Let me tell you it is totally worth it! This cheescake is absolutely fabulous, moist, creamy and flavourful. All the kids asked for a second piece and D'Wayne looked like he was in heaven. It was absolutely delicious! I think Matthew even licked his plate and then asked for a third piece of cheesecake (to which of course I said no).
So if you are a fan of cheesecake and even a remote fan of pumpkin this recipe is worth the time and effort put into it. And the nice thing is, dairy free, sugar free, gluten free all equals guilt free and will impress every one of your guests this Thanksgiving.
Or you could just go with plain old pie…
Pumpkin Cheesecake
Crust:
12 tablespoons Earth Balance vegan spread
2 1/2 c. almond mash (leftover from making almond milk)
1/4 c. coconut sugar
dash of salt
Cheesecake:
4 – 8 oz. vegan cream cheese
1/4 c. vegan sour cream
2 1/2 c. coconut sugar
15 oz. canned pumpkin
6 eggs, lightly beaten
1 tbsp. vanilla
1 tsp. sea salt
2 1/2 tsp. cinnamon or 2 drops of Cinnamon Bark essential oil
1 tsp. ginger or 1 drop Ginger essential oil
1/4 tsp. cloves or 1 drop Clove Bud essential oil
Postion rack in center of oven. Preheat to 325 F.
Brush a 10 inch springform pan with 1 tbsp. of Earth Balance. In a bowl, stir the remaining Earth Balance in with almond mash, coconut sugar and a pinch of salt. Press mixture into bottom of pan and up the sides. Bake until golden brown about 15-20 minutes.
Cool on a rack, then wrap outside of pan in tin foil and place in a roasting pan.
In a large mixing bowl beat the cream cheese until smooth. Add coconut sugar and beat until just light. Add sour cream, then pumpkin, eggs, vanilla, 1 tsp. sea salt and spices and until just combined. Pour into cooled crust.
Gently place roasting pan into oven (do not pull the rack out). Pour boiling water into roaster until water is about half way up springform pan. Bake until the outside of cheesecake is set but the center is still loose, about 1 h 45 min. Turn off the oven and open the door briefly to let out some heat.
Close oven door and let cheesecake sit for 1 more hour. Carefully remove from roasting pan and let cool on rack. Run a knife around the edges, cover and refrigerate for at least 8 hours or overnight.