There's nothing better than a warm pumpkin muffin, fresh out of the oven, with a nice bit of butter on it, melting as the muffin melts in your mouth with that first delectable bite. I love pumpkin and that is one of the many reasons I love this time of year. In the Fall, pumpkins and pumpkin recipes and dishes abound.
Whether it be preparing for the Thanksgiving feast or the events at Halloween there are pumpkins everywhere. And I am quite happy to take advantage of this and enjoy as much pumpkin as I can. There is so much you can do with pumpkin from soups to pies, cheesecakes, even drinks like martinis and lattes! (Who else can't wait for Fall so we can experience once again the delectable flavors of a pumpkin spice latte)?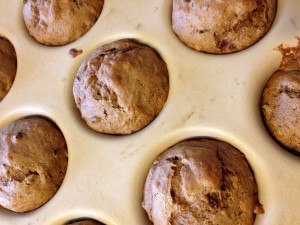 Muffins are one of the quickest and easiest ways to use pumpkin. They are great for snacks, to put in lunches and easy to freeze, if they last that long. My kids love muffins of any kind and will gladly gobble up the pumpkin ones just as quick as the strawberry rhubarb, apple, blueberry, etc. Of course I tend to make my favorites (or honestly what is in abundance at our house, for instance earlier in the Fall we had all the apples from our apple tree).
Over the past couple of years I have adjusted my pumpkin muffin recipe, passed down from my Mom to make it sugar free and dairy free, meeting our new dietary choices. I have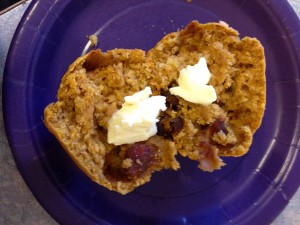 also been experimenting with gluten free recipes as well and therefore have found some good gluten free pumpkin muffins as well. (Usually I still need to do a little adjusting with the sugar, but it has become second nature now and is a quick and easy substitution).
So I make both at times, as my kids will eat either, though I am finding I am moving more towards gluten free only because I am noticing how my body is feeling after gluten sometimes (which is not so good). And today I am sharing both recipes with you. Both are equally easy and delicious, so it is simply your preference or dietary needs to decide which one to try (You could, like me, make both).
Gluten Free Pumpkin Muffins
1/2 c. tapioca flour
1/2 c. garbanzo flour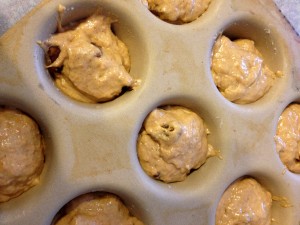 1/2 c. brown rice flour
1 c. coconut sugar
3 tbsp. flaxseed
1 tsp. baking soda
1 tsp. nutmeg
2 tsp. cinnamon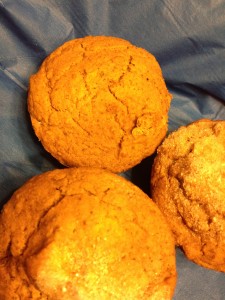 1/2 tsp. sea salt
1 c. pumpkin puree
1/2 c. safflower oil
2 eggs
1/2 c. dates or raisins
In a medium mixing bowl, mix dry ingredients thoroughly (flours, coconut sugar, flaxseed, baking soda, salt and spices). In another bowl, mix wet ingredients together (pumpkin puree, safflower oil, eggs). Make a well in the center of dry ingredients and add wet ingredients to dry. Stir until just combined, then mix in dates or raisins.
Line muffin tin with muffins cups or grease with coconut oil. Fill each cup. Bake at 350F for 20-25 minutes.
Makes 12 muffins
Pumpkin Muffins
1 3/4c. all purpose flour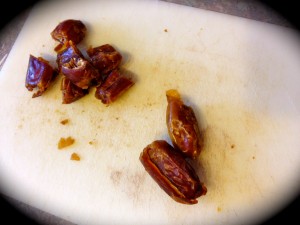 1/2 c. coconut sugar
3 tsp. baking powder
1/2 tsp. sea salt
1/2 tsp. cinnamon
1/4 tsp. cloves
pinch ginger
2/3 c. almond milk
1/2 c. pumpkin
1/3 c. olive oil
1 egg
1/2 c. dates or raisins
In a medium sized bowl, beat together egg, pumpkin and oil. Add almond milk. Sift together dry ingredients and add to mixture. Mix in dates or raisins.
Line muffin tin with muffin cup or grease with coconut oil. Fill muffin cup and bake at 400F for 25-30 minutes.
Makes 12 muffins
Do you have a favorite pumpkin muffin recipe?