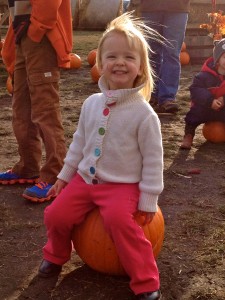 One of the things I really enjoy about the Thanksgiving weekend is all the Fall Festivals that there are to check out. Fall in general seems to be a celebration of the harvest and represents the abundance in our world. Set against the fall colors and the golden sunlight I just find it a wonderful experience.
Now many of these festivals do run on other weekends as well, but I always like to pick one and make that the 'trip of the weekend', so that the kids associate Thanksgiving not only with turkey dinner, but with something fun as well.
This Thanksgiving we went to the Pumpkin Festival at the Calgary Corn Maze. And it was an absolute blast. Full of additional 'pumpkin' activities, such as pumpkin bowling, pumpkin decorating and pumpkin bingo, it is easy to while away your afternoon there. And that's on top of all the regular activities that they have such as mini golf, navigating the corn maze, jumping pillows, hill slide, petting zoo and more!
The favorites were definitely the jumping pillow and the hill slide. Both which at first Chloe was a little hesitant to go on. On the hill slide once she went up and down a few times with me she got brave and started venturing out on her own. You could hear her squeals of delight when she got to the bottom and yelled that she did it all by herself, grinning radiantly from ear to ear. The jumping pillow was similar once D'Wayne was on there jumping with her for a bit, she became more confident and did it to on her own. (Now it's debatable whether D'Wayne went on there to 'help' Chloe or because he really wanted to get on there himself. I remember when I first told him that they had jumping pillows, he got quite excited)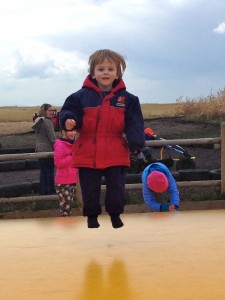 Even the maze was fun to go through with the kids, though it being at the end of the season is quite tromped down, the original paths hard to find. (Next year I am going at the beginning of the season when it's fresh and green). The kids just wandered through the maze with us, Matthew taking the lead on finding the way out. Nobody got upset or worried that we were going to be stuck or lost in there, though I think the twins would have no concept of that at this point. Overall it was just a lovely, leisurely, fun afternoon. Checking out different activities as we pleased, no one rushing anywhere or hurrying people along.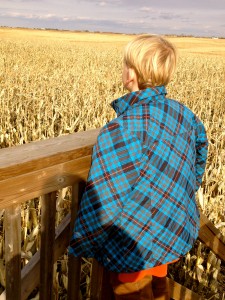 Though there were a few activities that we did not get to, we did close the place down. The kids wanted one more time on the jumping pillow, so we went over for the last 10 minutes until they announced that they were closed for the day. We then gently got them all off, but no one complained or fussed, everyone seemed completely satisfied.
It's afternoons like those that I really enjoy being a mother and having a family. There's just something about going out and playing together that bonds us, relaxes us and satisfies the soul; for all of us, kids and adults alike. I think we need more of that in our lives, but sometimes that's the challenge isn't it?