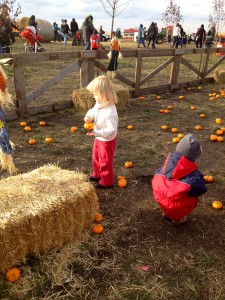 In the month of October there seems to be a lot of pumpkin about. From Thanksgiving feasts that include delicious pies and cheesecakes to Fall festivals and trips to the pumpkin patch, even right up until Halloween when we are carving pumpkins for the kids and all our trick or treaters.
I love pumpkins. I not only love the taste, but I love the bright orange color they are, the unique shapes and sizes and all the different things that you can do with pumpkin, from eating and recipes to decorating and crafts.
I do have to say that I tend to lean towards the pumpkin food items the most, as I really do enjoy those. And lately I have been finding all kinds of pumpkin delights that I have tried or am about to try such as pumpkin pancakes, muffins, latte, fudge, cheesecake, ice cream and of course pie. I even discovered a recipe for a Pumpkin Gooey Butter Cake, which though I have to make a few dietary adjustments I can't wait to get it into my oven and more importantly in my tummy!
The pumpkin pancakes I discovered a few years ago when I bought Halloween pancake molds that came with the recipe (those are so fun!). The pumpkin spice latte is a slow cooker recipe I discovered last year and made for the first time last week for my open house. The fudge I have yet to try but believe me I am all over this and it won't be long! And I have always loved pumpkin muffins, though I have been dappling in some new recipes. I always enjoy variation and who knows you might be missing out on something even better if you don't at least try it!
I am not sure what it is I love about pumpkin dishes so much, but I am sure that it also has to do with the allure and smell of all those delicious spices that go in it; like ginger, cinnamon and cloves. Mmmm… just the thought of it makes me feel all warm and fuzzy inside.
My greatest (and most fun) pumpkin discovery this Fall was actually not a food item. Which is ok, I was just super surprised at whoever came up with this as it is so simple, yet so ingenious. It is Pumpkin Play Doh! I thought this was fabulous! My kids loves playdoh and what a fun way to tie in a theme, those spices we love and play and create at the same time.
I found the recipe on another blog While He Was Napping. She makes her playdoh on the stove top which I am sure works well, but I have my own playdoh recipe I decided to use and adjust instead (as it is just a mix everything together, I like to avoid extra pots and pans). All I needed to do was add my pumpkin pie spice and color it orange. Presto! Pumpkin Playdoh.
The twins loved it! Thought it was the most fabulous thing ever, yeah it was playdoh but it was new and it was pumpkin! Even Matthew and his friend smelled it and said it smelled really good. Plus I played it up a little, got out the Halloween cookie cutters for them to use and sat down and played with them for a while. Chloe loved making pumpkin hair for the Fuzzy Cuts Barber Shop we have. Luke just rolled it and created as he usually does. Fun was had by all.
I'm wondering now what other 'flavours' of playdoh I can make, perhaps mint or chocolate. It could be done, I'll have to experiment… In the meantime enjoy the pumpkin…
Pumpkin Playdoh
Mix together in a medium bowl:
2 c. flour
4 tsp. cream of tartar
1 c. salt
2-3 tsp. pumpkin pie spice (amount depends on how strong you would like the scent) or 2-3 drops On Guard essential oil
Add in:
1 1/2 c. boiling water
2 tbsp. oil
Mix together. Knead well. Add in orange food coloring. Knead again until well mixed. Store in ziploc bags.
*For ordinary playdoh simply omit the pumpkin pie spice and add whatever color of food coloring you want. Batch is fairly large – so can easily be divided to make a few different colors or scents.