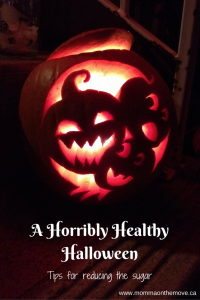 Since eliminating sugar from our diet holidays have taken on a very different look for our family (yet we still enjoyed pumpkin pie at Thanksgiving! -sugar free of course). There is so much sugar and sweets that come with each holiday that it can be challenging to get around. The key is to find alternatives that meet the child's needs without making him feel different or like he is missing out.
Halloween is no exception, in fact I would venture to say that it is the worst holiday connected to candy and treats. I remember Matthew asking me shortly after we eliminated sugar if he would be able to go trick or treating for Halloween. Thinking ahead, I already had an answer for him and told him yes he would be able to and then I told him the plan.
These are the things that we will be doing this Halloween to ensure it is sugar free and still enjoyable.
Tips for a Sugar Free Halloween
Go to a Candy Buy Back (or do the Switch Witch)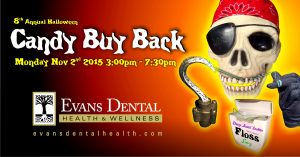 Matthew will go trick or treating this year but he will take all of his candy to an event called the Candy Buy Back, put on by a local dentist here in Calgary. It is the day after Halloween and they give the kids $1 for each pound of candy that they bring in. They have all kinds of prizes and they wear their Halloween costumes again.
We have done this for the past couple of years and he uses the money he receives to buy a book. So he still gets to participate in the "main activity" of Halloween and get something that he wants and is able to have.
Now some people may be upset by this as they go out and spend money on candy to give to kids and then they go and sell it. I do see their point but it is a choice and once you give it away who knows what happens to it. You could buy something else that is non candy and give that out (and people are starting to do that), decide not to hand anything out, or be ok with it. If we as a society want things to change then it has to start somewhere and the method may not be preferred but at least it is a start.
Have a Healthy Fun Supper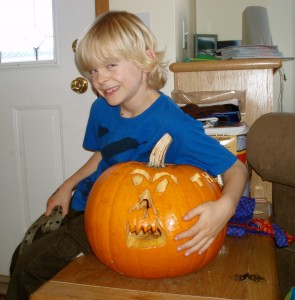 There are also other things that you can do to eliminate or reduce the amount of sugar your child ingests this Halloween. Nina Manolson of Healthy Yummy Kids, suggests that for supper that night you prepare a full healthy meal that the kids will enjoy with a nice healthy yummy sweet at the end (you can make the cookies, cakes and treats without the sugar- check out some of my sugar free recipes). I take it one step further and make it a fun Halloween themed supper. This is basically taking healthy foods and getting creative and making them spooky. In the past we have done Monster Face Pizzas, Monster Brains and Skeleton Veggie tray.
This will not only satisfy their craving for sweets but they will also feel full, and therefore when offered candy to eat, they won't eat it because they are not hungry. (Nina also suggests this strategy for afterschool outings and birthday parties).
Attend a Halloween Community Event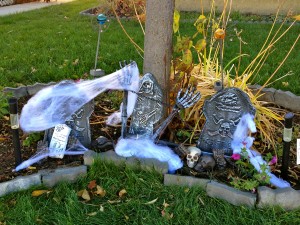 It is also important to remember that there is more to Halloween then just the candy; there are many events and activities around it. If you look at the history of Halloween it originally had nothing to do with candy -it is society that has added the "treats" over the years.
When attending an event, the kids still get to dress up, and there are usually games, crafts and other activities. There are many special events in the community (for instance in Calgary, we have the Boo-roofic Bash, Ghouls' Night Out, Haunted Houses, etc). There are dances and classes that you can wear your costume to with other activities. Yes there are likely candy and sweets available but there are more to these events than the treats and it is easy enough to skip the treats if you choose to.
Decorate your Home for Halloween
There are loads of Halloween crafts that the kids can make and then use as decorations to put up. You can also add in things like Halloween soap dispensers and towels, spider webs on mirrors, a graveyard and skulls in your front yard. You can get really into this (just check out Pinterest for great easy ideas!) That is all part of the fun and demonstrates another fun aspect of the holiday that is not candy related. My son is already asking me if we can put out the Halloween decorations (and has been since September).
I feel that Matthew will have a very enjoyable and healthy Halloween this year and I don't think that he will feel like he missed out at all. It really is easy to do and I encourage you all to give it a go yourselves. You will eliminate all those wired and moody kids the next morning!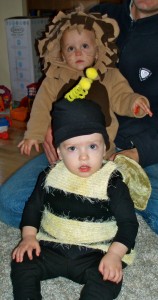 As for the twins, we dressed them up last year, but did not go trick or treating. So they are familiar with the event and love to dress up! We might take them out this year to a few neighbors, and we'll contribute their candy at the Candy Buy Back, because for them it is all about the costume!