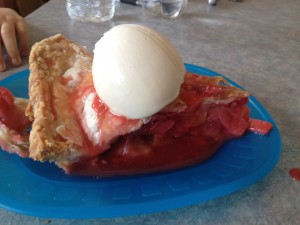 The other day one of my neighbors offered me some fresh rhubarb from her garden. I am not a big fan of rhubarb (and don't really know a lot about what to do with it) but I do really enjoy strawberry rhubarb pie (and I love making things with ingredients fresh from the garden). Years ago I had found a recipe and tried it. So when Matthew came in and said the neighbor asked if we wanted some I said yes! right away.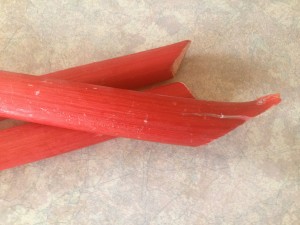 Rhubarb is a tart fruit that on its own is not to my liking but combined with strawberries I find the whole thing delicious. Now those years ago when I first made this pie it was the traditional white sugar filled filling, so this was my first attempt making it sugar free. I was a little nervous because it called for mixing the flour and sugar together but thought that would not work well with the agave nectar (what I chose to substitute for the sugar) being a liquid.
What I decided to do was to mix the flour and salt together and then once everything was in the pie shell to then pour the agave over top, letting it fill in the holes, as well as being on top.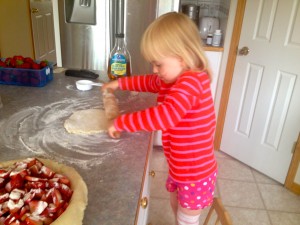 The kids of course love pie, so it didn't matter to them what kind of pie I was making, just that we were having pie after supper. Chloe actually helped me make the pie and enjoyed assisting in rolling out the pie crust. She also watched me cut the fruit and asked many questions along the way as to why I was doing this or that.
Once the pie was in the oven, everyone settled down. But as soon as it came out after supper I barely had time to let it cool before everyone was asking for a piece. I would have prefered to let it cool much more to allow for the filling to set but they weren't having any of it. So I cut pieces for everyone and topped it with ice cream.
Oh. my. God. It was delicious! In fact it was even better than the sugar version I had made before. The kids licked and practically ate the plates it was on. And then promptly asked for more!
I feel that anything made fresh and with fresh garden grown ingredients is going to turn out quite well. But this was beyond my expectations, it was sooo good. With just the right combination of sweet.
Strawberry Rhubarb Pie
2-9 inch pie crusts (one for top and bottom)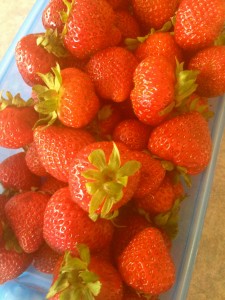 2/3 c. agave nectar
¼ c. flour
¼ tsp. salt
3 c. chopped rhubarb
3 c. sliced strawberries
Mix flour and salt together, put 1/3 of mixture on the bottom of the pie crust. Add fruit in pie shell, leave slight mound in the center, and pour remaining dry ingredients on top. Pour agave nectar over top of fruit and dry ingredients. Cover with top crust. Pinch edges together to seal. Cut small slits in top of crust.
Bake at 425 F for 10 minutes, then reduce heat to 350 F and bake for 40-50 minutes. Let pie cool for at least 15 minutes before serving to allow the juices to cool and set.