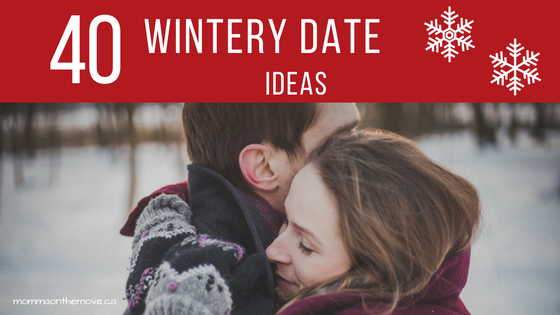 It's date night. It's wintery, it's cold and all you want to do is cuddle up on the couch in your pyjama's instead of heading out with your partner on the same old date for dinner and a movie. You'd like a spark of heat, forget any spark of romance.
Wintery dates can be challenging as we are naturally more sedentary during this season. Days are shorter, it's darker sooner, and we don't have the same levels of energy as the summer time. But it's important to keep that connection with your partner, that time for just the two of you through all the seasons.
And it doesn't have to be the same old same old all the time. Because honestly it gets boring right? No matter how much you love your partner and want to spend time with them you'd like to change it up a bit. Not only does changing it up a bit make things more exciting it's really good for your relationship. Remember that anticipation of getting together when you first met and were newly dating? Getting a little creative with your dates can create those fun and exciting feelings again. And that's exciting!
So here are 40 Wintery Date Ideas that will not only make it easy to do something different, but add in that spark of creativity and fun, even anticipation, that was present when you first started dating.
40 Wintery Date Ideas
The Budget Friendly
One of the reasons some couples don't go on dates as much as they'd like is because it can be quite expensive. So they choose to stay home or do nothing at all. Here are some easy budget friendly ideas for a great wintery date.
Go Skating

– most communities have free ice for skating or a local rink where you pay a small admission, all you need is your skates and maybe some hot chocolate and you're off!

Make a fondue

– whether it be dessert style chocolate and fruit or a whole meal, fondues are inexpensive and easy to put together. All you need is a fondue pot and your foods of choice.
Spa date night – create a soothing atmosphere at home with soft music, candles and oils for massaging. Create your spa services menu, then lay back and relax. You can even provide fluffy terry towel robes and slippers so it's the real deal!

Scavenger Hunt

– remember loving these as a kid. Why not do one now? You can create a scavenger hunt list for in the house, the neighborhood or even city wide! Alternatively, you could create clues that send your partner from place to place on a specific route and you could be waiting at the end at the selected location (coffee shop for cozy hot chocolate, wine bar, the bedroom… just saying)
Play in the snow – how often as adults do we actually get out and play in the snow anymore? Build a snow fort, a snowman, snow angels or have a snowball fight.

Bubble bath for two

– fill your tub with warm water and bubbles. Add a little essential oil to relax and calm, you could even light candles and have a glass of wine.

Watch cartoons

– when I discovered this idea I thought it was fantastic! Put on your pj's, have breakfast for supper and watch your favorite cartoons from when you were a kid.
Date Night Theme – stay in and have a theme for the night i.e. Hawaiian, Australia, Winter Wonderland, Paris, the beach. Create food and dishes according to your theme, dress and decorate appropriately and see where the night takes you.

DIY Photo Shoot

– Grab a camera, head out and start shooting. Trade off being the photographer and the model, trying different poses, outfits and backgrounds. Or shoot nature shots and landscapes around the city. They'll be no lack of inspiration.

Nerf Hide and Seek

– I saw this on Facebook once. The husband came home to find a nerf gun sitting at the front door with a note on it "Saying you're it, if you can find me". Seriously how fun is that?

Enjoy a Glass of Wine by the Fire

– If you have a fireplace, stoke it up and cuddle up. (If you don't have a fireplace grab one of those 'Fireplace in a Box' DVDs – seriously they are great and create the atmosphere you want). Enjoy your favorite wine and good conversation with your partner. If you want some conversation inspiration grab The Book Of Questions to learn more about your partner and provoke some interesting conversations.

Board Game Night

– I personally love board games and really enjoy when anyone plays with me. Pick your favorite board game or two and enjoy some friendly competition with your partner. (Did you know a little friendly competition can be good for your relationship?) Try ones like Taboo, Pictionary and Speed Scrabble.
Bookstore Date Night – this can be done in one of two ways a) go to your favorite book store when they're hosting an author reading. Whether they're an author you know or not you'll expand your horizons and maybe learn something new. b) Or you could try this bookstore date idea from the Dating Divas, which I love, as you not only get out of the house for an inexpensive date but you also learn a little more about your partner.

Set Up Your Backyard as a Winter Wonderland

– put up white lights, play music and dance in the snow, blankets, fire pit if you have one, hot chocolate or glass of wine. I have a bench that is perfect for two to cuddle up on wrapped in blankets together. Don't have any snow, make snowflakes and place them around the yard.
Volunteer Together – find an organization you both care about and check out their website for ways to get involved. Volunteering together can be an incredible shared experience.
Build a Fort – yes like you did when you were little. Chairs, blankets, do not enter signs. How fun was that to create your own space and hide? Make it big enough for both of you then decide what you'll do inside your fort – read, play a board game, have a sleepover…

Make Your Own Pizza Night

– create in the kitchen with your partner making pizza from scratch. Grab a pizza crust from the store (or be even more adventurous and make your own from scratch), add your favorite ingredients and voila! yummy pizza. Fee each other if you desire or add your favorite wine.

Power Outage Night

– have fun without electricity. Pretend that the power has gone out for the evening. Light candles, play games by flashlight, tell ghost stories. You could even adorn yourselves with glow stick jewelry.
The Outdoor Lovers
Participating in outdoor activities with your partner not only gets you outside and active in the winter months it is also great for your relationship as research shows that doing physical activities together make people feel more bonded.
Go Toboganning

– enjoy the fresh air and the wind blowing through your hair as you slide down the hill. You can either share a toboggan with your partner or go down on your own. Perhaps even a race is in order? The size of the hill doesn't matter, as long as you can slide to the bottom it'll do the trick.
Take a Sleigh Ride – horse drawn sleigh rides can be romantic and are relaxing and festive. Appreciate the winter wonderland as you cuddle up under a wool blanket and maybe even enjoy a warm drink.

Experience Dogsledding

– this is a magical and amazing recreational experience. Originally used as a means of transport by the Inuit people of the Canadian Arctic it's another opportunity to snuggle up and enjoy the beauty of winter.

Try snowshoeing

– it's a very neat experience to literally walk on top of the snow. Strap on a pair of snowshoes, grab your partner and explore. The great thing about this activity is if there's enough snow in the city you can go snowshoeing in city parks or use it as an opportunity to escape the city and go to the country.

Go Skiing

– whether cross country or downhill skiing is a full body activity that makes great use of the snow! Chase your partner down the mountain or challenge them to a race. Either way you'll feel exhilarated after.

Take a Walk in the Snow

– there's nothing like a cozy walk in the cool crisp air enjoying the beauty of winter. Dress warm, hold hands and enjoy each others company as you walk side by side. Enjoy great tech free conversation, the scenery and maybe even some snowflakes (I love taking a walk through the softly falling snow, there's just something magical about it).
Snow Tubing -an exhilarating and less expensive way to hit the slopes snow tubing is a fantastic outdoor activity to do with your partner. There's usually a magic carpet so you don't have to tire out those legs going back up the hill and tubes are provided onsite.

Go Skating

– I know I said this above already but this idea really appeals to me, there's something very romantic about it! Especially if you can go at night and they have twinkling lights, firepit and music playing over speakers. All you need is your skates and maybe a thermos of hot chocolate and you're off!

Have a Winter Picnic

– Pack up some homemade cookies and a thermos of hot chocolate and head out to the nearest park or even just the backyard. Bring a nice wool blanket and dress warmly (includes snowpants if you have them!) If you go during the day enjoy the sunshine, if you're out at night perhaps you can even do a little stargazing.

Attend a Winter Festival

– there are many winter festivals and events. Check out online what the winter festivals are near you.
The Indoor Adventurers
Laser Tag

– combine the classic games of hide-and-seek and tag with a high tech twist. Can you catch your partner? Or will you team up and take out the rest of your group?
Cooking Classes – this is really a good way to spend time with your partner, discover what they like about meals and hopefully transfer some of those skills to the home.

Bowling

– is a ridiculously fun way to go out and play with your partner. Yes the shoes are ridiculous (but you have to wear them), you'll likely discover muscles you never thought you had and possibly twist your body in a way you never thought you could. And it's so fun. Plus you'll learn just a little more about your partner in a unique way.

Go to an Extreme Air Park

– this is a huge enclosed space with interlocking trampolines with a variety of different activities to choose from. Reasonably priced you can jump to your heart's content from an hour to an all day pass.
Indoor Go-Karting – zoom around the track with your partner at speeds of up to 75km/hour (depending on where you're racing). It's a complete adrenaline rush to race around on go-karts and see how fast you can go.

Couples Massage

– a wonderful relaxing experience, having a couples massage increases feelings of affection, brings you to the present moment and reconnect with little effort.

Indoor Rock Climbing

– not only is this activity one where you work together and support each other it is also an activity that boosts brain function and reduces stress, as well as many other benefits. Wow! Who knew? You'll melt away the stress of the day and then come home relaxed and ready for other types of connection.

Date Night at the Science Center

– this is such a neat idea. At my local Science Center there's an Adult Only evening. They bring out more involved challenges, a fully licensed bar and dj. Each night features a different theme and new riskier science to experiment with. This may be local to only my area but I am guessing that if you google it in yours you'll find one.

Go to the Theatre

– a night at the theatre can open up so many avenues as a couple. Different styles and kinds of theatre can broaden your horizon as a couple and learn more about yourself as well. Some theatres offer dinner before the show so you may not even have to cook!
Go to a Hockey Game – support your home team and get rowdy (or enjoy quietly) a live hockey game. The excitement of a live game cheering and getting into it is a great bonding experience.

Pottery Night

– check out your local pottery studio and get messy with clay! You may even get to have a "Ghost" moment, which yes is so cliche but super fun.

Be Tourists

– check out your own backyard as if you were visiting the city for the first time. What are the sites to see? Museums, monuments, etc. Don't forget your camera!

Go for Hot Chocolate

– and not just any hot chocolate. Lots of cafes and local shops usually have a signature hot chocolate that's just a little out of the ordinary and super yummy! Check out what's near you and go check it out.
One thing I really enjoy about winter dates is you often come back and want to warm up and cuddle up. So it really creates more opportunities for cuddling and hot chocolate! And who doesn't want more of that?
These wintery date ideas are not only creative and fun but they instigate a strong sense of play in most of them. Something we adults don't do enough of! Plus they say that couples who play together stay together! Why? because you are creating experiences, connection and good feelings not only in your relationship but towards your partner. Besides a little creativity breaks up the boredom and adds back that little bit of spice you might be looking for.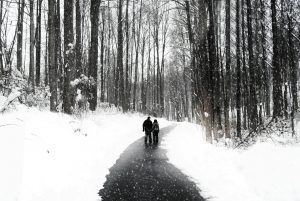 Have a great wintery date idea? Share in the comments below.