I love the variety of neat camping recipes there are. Especially ones that you can do over the fire that are yummy, sweet and delicious. Usually done over hot coals and in tin foil it makes for even less dishes and a delicious treat or meal.
Our family camping trips always involved TFD's, or Tin Foil Dinners, which my father usually requested that we have at least twice. But I often enjoyed the dessert options, like s'mores, banana boats and cinnamon apples. Cinnamon apples have always been my favorite, as the brown sugar would melt and make a nice sticky syrup over the apples and raisins, so much that I would often lick the tin foil to make sure I did not miss one drop! Until recently, these camping desserts were something that I had to forgo – until I figured out how to do it sugar and dairy free.
As with any recipe I am 'transforming', my goal is to figure out how to make so that it is the same as the original, or only a slight difference in taste. My Mum was actually the one who figured this one out. A couple of summers ago she bought coconut sugar and tried it out with the cinnamon apple. It worked perfectly! (Coconut sugar is an excellent natural substitute for brown sugar. It melts just like brown sugar and gives you the syrupy juice.)
I have also figured out how to do banana boats sugar free, also very good, but have yet to try it out on the campfire. (Will post it once I do! )I believe though that it will turn out just as yummy.
Cinnamon apples are easy to make sugar free without compromising the taste! Worth a try on your next camping trip this summer.
Sugar Free Cinnamon Apple
1 apple
cinnamon
raisins
spoon of Earth Balance vegan buttery spread
heavy duty tin foil
Tear off a large square of heavy duty tin foil. With the shiny side up do the following:
Using Earth Balance, butter middle of tin foil, spreading evenly around. A spoonful is good but if you like you can use more. Slice and core apple, put apple on top of buttered area spreading out slices so they are not on top of each other. Best to slice apples thinly as opposed to in chunks as they soften and cook more quickly. Sprinkle with cinnamon to taste, add raisins. Sprinkle a couple of spoonfuls of coconut sugar over apple mixture. The more coconut sugar you use the more juice you will create. You may add a few dollops of Earth Balance on top also to create more juices.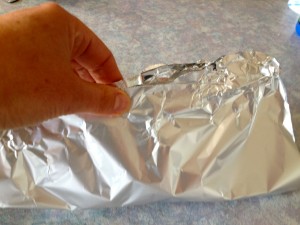 Close foil by matching the edges and folding it down until it is tight.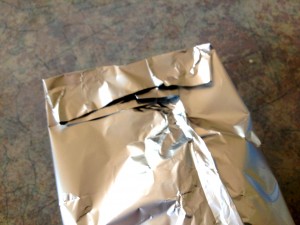 Then fold over and close each side.
Place foil packet on top of hot coals. Important – ensure that there is no flame amongst your coals otherwise it will burn. Let cook for 5 minutes, then flip over using tongs. You'll hear the apple sizzling. Check after a few more minutes. Apple should be soft and coconut sugar and butter melted. If it's not ready wrap it back up and put it back onto the coals and cook for a few more minutes.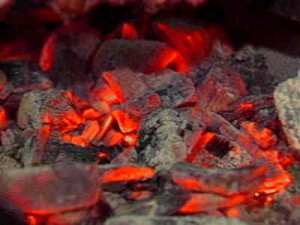 Once ready unwrap and enjoy! Caution Cinnamon Apple will be very hot. If giving it to small children unwrap and let it cool some before they enjoy.